BC Children's Hospital tosses out a new digital strategy
A digitally automated donation challenge leads a renewed holiday effort.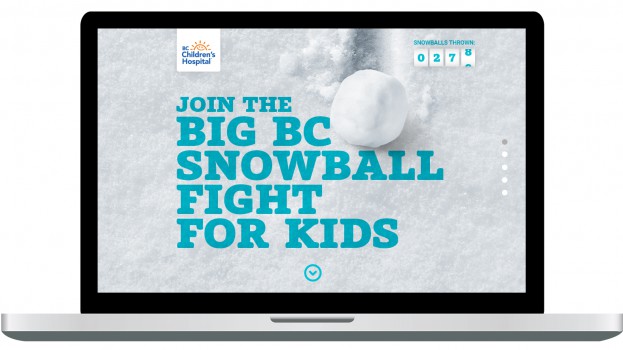 The BC Children's Hospital Foundation has set out on its second annual holiday campaign by upping the focus on digital and social media and relegating traditional media to a support role.
The campaign, which launched late last week, is packaged as a virtual snowball fight. Donors who log onto the SnowballFightForKids.ca site will be challenged to throw a snowball at someone they know. They can choose from various throwing styles such as "the corkscrew" or the "triple whammy."
Each throw represents a donation in the amount of their choosing. They then "throw" the snowball to a friend, sending it through either an email or social media alert. That friend is also challenged to donate. The goal is to use digital media to take the cause viral.
"It's completely new for us to centre something around this big digital experience," Pamela Smith, communications specialist with the BCCHF, told MiC. "Year-round, we tend to do a lot more traditional campaigns, ones that are meant to appeal more to our corporate and community partners. This was a fun, unique way to get everyone involved and excited."
While the majority of the campaign will centre around the digital piece, Brittany Beaupre, marketing coordinator at the BCCHF, told MiC it will also be promoted through transit shelter ads, posters, bus ads and some print. The traditional media space was all donated, with Thrive Digital managing the online ad buys.
Additionally, to boost the profile of the snowball fight, Beaupre said the BCCHF is engaging with social influencers, corporations and community partners to get involved by challenging each other with snowball hits on Facebook.
The campaign will extend until mid-January, with a goal to raise $100,000 in support of equipment, research and recruitment for its new facility.
Aside from Thrive Digital, BCCHF worked with creative agency Will, which designed the interactive snowball fight.