CBC announces its winter 2018 programming
Legal drama Burden of Truth and Allan Hawco's Caught are among a trio of dramas joining the pubcaster's lineup.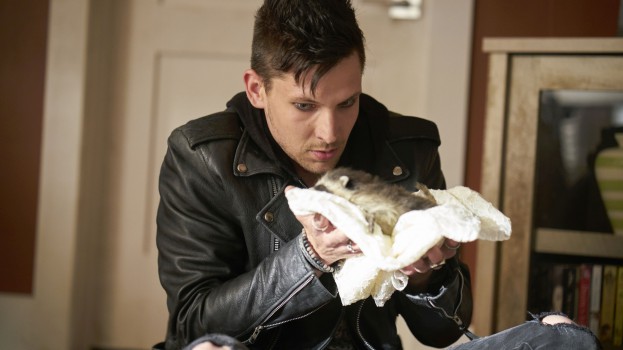 This story has been updated
CBC has unveiled the mid-season premiere dates for its new and returning series, including debuts for a trio of dramas and a pair of half-hour comedies.
The pubcaster's winter 2018 slate features three new hour-long dramas, including Manitoba-shot drama Burden of Truth (10 x 60 minutes) staring Kristin Kreuk; drama Caught (5 x 60 minutes) staring Alan Hawco; and true-crime series The Detectives (8 x 60 minutes).
As well, debuting comedies Crawford (12 x 30 minutes, pictured above), and the dark comedy Little Dog (7 x 30 minutes) are set for premieres in February and March, respectively.
CBC's winter schedule also sees the return of Schitt's Creek season four, Workin' Moms season two and Hello Goodbye season three.
Heading into the new year, from Jan. 8, Monday nights will kick off with Murdoch Mysteries at 8 p.m., followed by Frankie Drake Mysteries at 9 p.m. Caught joins the schedule on Feb. 26 once the first season of Frankie Drake has concluded.
Tuesday nights see the return of Schitt's Creek and Workin' Moms, which premiere at 9 p.m. and 9:30 p.m., respectively, on Jan. 9. The 15th and final season of Rick Mercer Report launches on the same day at 8 p.m., with This Hour Has 22 Minutes in the 8:30 p.m. timeslot.
CBC is pairing up the hour-long dramas Burden of Truth and The Detectives on Wednesday nights starting Jan. 10, with Burden at 8 p.m. and The Detectives at 9 p.m.
Thursday nights will see the debut of acquired Irish miniseries The Secret (4 x 60), which debuts on Jan. 11 at 9 p.m. Joel Thomas Hynes-starring series Little Dog will premiere in the 9 p.m. slot on March 1. 
Friday Jan. 12 sees the season-three premiere of Hello Goodbye (13 x 30), which is nestled between Marketplace at 8 p.m. and The Fifth Estate at 9 p.m. Also, comedy series Crawford debuts (in its entirety) exclusively on CBC's digital platforms on Feb. 2. The show will also air on the linear network in summer 2018.

Meanwhile, Hockey Night in Canada will air on Saturdays at 6:30 p.m., while Sundays see the continuation of Heartland's 11th season at 7 p.m., followed by The Nature of Things at 8 p.m., CBC Docs POV at 9 p.m. and The National at 10 p.m.
This story originally appeared in Playback
For more on CBC and other broadcasters' mid-season strategies, read the mid-season checkup in the January/February issue of strategy magazine, available Jan. 2, 2018
Correction: The original version of this story listed Crawford's debut on CBC digital platforms as Jan. 12. Media In Canada regrets the error.