Jay Switzer remembered
Friends and former colleagues recall their time with a giant in Canadian television and film.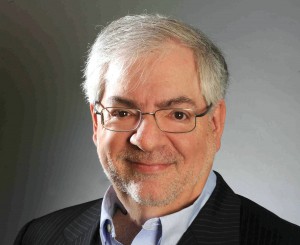 The Canadian film and television industry has lost one of its greatest champions and executives with the passing of industry veteran Jay Switzer.
The former CEO of CHUM and co-founder of Hollywood Suite died Monday in Toronto, following a battle with brain cancer. He was 61 years old.
Friends and former colleagues remember a man who not only championed Canadian content and TV business, but the place of women in its ranks, long before many were calling to do so.
He was, in many ways, destined to be involved in TV. The son of cable pioneer Israel "Sruki" Switzer and his wife, CityTV co-founder Phyllis, Calgary-born Switzer got his first taste of the business at the age of 13, when his mother asked him to attend a CRTC hearing in Trois Rivières and give her a report for her regulatory newsletter.
A few years later, when Phyllis co-founded CityTV in 1972, Jay worked on the station's switchboard before moving up to serve as floor director. Once he completed university, he took a full-time position at CityTV, first as a program manager before working his way up through the CHUM ranks to SVP and general manager in 2000 and then CEO in 2002.
He stepped down in 2007 after CHUM was acquired by CTVglobemedia and later co-founded Hollywood Suite in 2010.
Long-time exec Marcia Martin, who began working with Switzer as the two were first starting out in the industry in 1972, told MiC's sister publication Playback Daily he was a natural in all facets of the business.
"I think his legacy is his love and passion for production and the people that make it, and a keen eye for programming. He simply loved the Canadian television and movie business. His mind was always [focused] on how we can make the industry we are in better," said Martin, who added that his mentorship and guidance inspired so many up-and-coming filmmakers.
Thirty years ago, Shaftesbury CEO and president Christina Jennings was one of those emerging filmmakers. At the time, she owned and managed a Toronto restaurant next door to the CityTV building and had recently finished making her first low-budget feature film, Cottage Country. Switzer, meanwhile worked in the basement of the CityTV office. "Because he used to come into the restaurant, I got to know him a tiny bit. I think at one point he'd probably said 'If I can ever be of any help' or something along those lines – so I took him up on that, and I made an appointment to see him."
"I remember going down to see him in the basement, and I'd never seen anything like this man who was simply surrounded by scripts and VHS tapes. He clearly loved what he was doing – he just loved it," said Jennings. Switzer went on to buy Jenning's project Cottage Country.

It was not the only time that Jennings and Switzer's career paths would cross, either. The Shaftesbury founder says Switzer also helped to resuscitate the Murdoch Mysteries brand before it had even begun. Shaftesbury had developed it as a series of TV movies in 2004 and, with 36 hours before the prodco was set to collect its CMF money, the attached broadcaster pulled out.
"I phoned him and I said, 'Jay, here's what we've got: it's based on these movies, it's a period detective drama set in Toronto, I have two great scripts, we're going to shoot the first two in Winnipeg, we've got our budget and we've got our funds. We are ready to roll.'" Switzer told her to send the scripts right away and, 18 hours later, recalls Jennings, she got a call back. "Done, we're ordering," Switzer told her. "Without it, I think it would have been over [for Murdoch]," said Jennings. Murdoch originally aired on City before moving to CBC in 2012. It's now one of the longest-running Canadian series, currently in its 11th season.
Charles Falzon, Dean of Faculty of Communication and Design at Ryerson University, met Switzer in the 1980s, while both were working as right-hand men to Moses Znaimer. For almost a decade, Switzer and Falzon worked together on turning series such as Fashion Television and The NewMusic into global brands.
"Jay [was] one of the good guys in the industry. He was always a solid, strategically brilliant, hard-working and determined businessman, but at the same time he was authentic, trustworthy and confident. He [was] one of the smartest men I have known in the TV industry that managed to remain whole as a person and focused on delivering entertainment content to audiences through building strong teams," said Falzon.
During his tenure, CHUM expanded to include a number of other channels known for programming forward-thinking content, including MuchMusic and Bravo!, as well as CityTV. "City TV  was one of the most innovative and game-changing enterprises in Canadian Television. Through Jay's leadership, CityTV's content and talent was diverse, contemporary and thought-provoking. Their cable and audience segmented strategies were way ahead of their time," said Canadian Film Centre CEO Slawko Klymkiw, who first met Switzer when Klymkiw was running CBC Newsworld.
Even those who did not work directly with Switzer would mine his well-known knowledge of the industry for insights. "While we never actually worked together, we remained friendly and picked each other's brains about various industry goings on," said Don Carmody, executive producer and chairman of DCTV. "He loved movies and television and had an encyclopedic knowledge of the best of both."
Hollywood Suite co-founder and director Catherine Tait said Switzer's commitment to promoting women in the industry had a lasting impact on the domestic industry. "Amongst Jay's many qualities was his unwavering support to women in an industry which has often turned a blind eye. He tirelessly promoted and encouraged so many of us – and we hold him in our hearts forever, in gratitude."
On this point, Jennings agreed: "We talk nowadays about women in the industry, but Jay was promoting, supporting and mentoring women 30 years ago. He believed in us women, and he put his time in helping those of us who were new to the business," she says.
In a statement announcing his passing, David Kines, who co-founded Hollywood Suite with Switzer in 2010, said, "Jay was a supportive and encouraging leader whose commitment and belief in the mission and people of Hollywood Suite never faltered, despite the many headwinds facing the broadcast business. His certainty in our success will be sorely missed by both myself and the staff and our industry."
Last month, Switzer was named to the Order of Canada at a private ceremony held on Dec. 11. He was inducted for his dedication "to the advancement of the quality and viability" of Canada's media and his championing of independent Canadian film and TV. He will also posthumously receive the Board of Directors' Tribute at the 2018 CSAs.
Switzer is survived by his wife, Ellen Dubin, and his sisters.