Facebook's Messenger chatbot showcase launches in Canada
The new Discover tab for Messenger highlights brands and publishers that have created chatbots.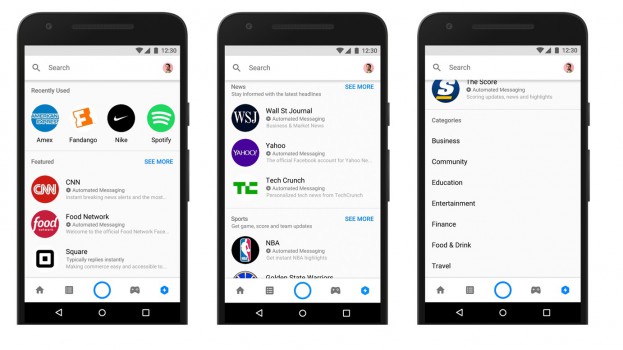 Facebook has launched the Discover section of its Messenger product in Canada after debuting the chatbot hub in the U.S. last year.
The section houses brands and publishers' chatbots and business pages in a central location. It is localized to deliver specific mixes of bots within different markets. The feature is being billed as a way to give users easier access to find and communicate with brands. Facebook is marketing Discover as a "complement [to] existing entry points," including paid advertising.
Key Canadian apps featured at launch include L'Oréal Canada, National Bank, Radio Canada and The Score. Other global partners available in Canada include Pinterest, The Wall Street Journal, NBA, Spotify and more.
Discover does have a "featured" section, although placement within it is not secured by an ad buy. Placement is gained algorithmically based on factors including how frequently users block or report a brand, high response rates and making good use of Facebook's other platform features.
Martin Aubut, chief digital officer at L'Oréal Canada, said in a statement that since the introduction of its Messenger bot last year, "the level of engagement and positive feedback we've received has been rewarding, and now that we're learning about our customers in their own words, we anticipate being able to deliver a more personalized experience for them."
Discover was launched in the U.S. only in late 2017.
One media company whose bot will launch in Canada, the Wall Street Journal, saw a good deal of success during its initial roll-out, according to Facebook. The news organization created a bot for Messenger that gave users access to daily information digests, breaking news and markets data. The bot saw 130,000 daily active users in the first 14 months of its use, with 40% of that audience being under 24 and 50% being under 35. The number of bot users has also increased by 30% in the last three months.