Government invests $14.5M in community media
Mélanie Joly said the investment comes at a time when local media has "been weakened by the change in digital content consumption."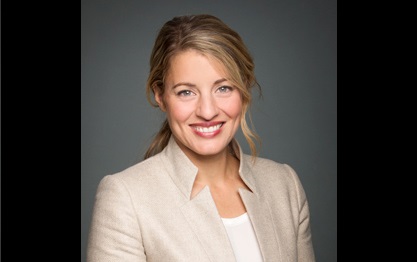 Mélanie Joly, minister of tourism, official languages and la francophonie, recently announced a $14.5 million investment toward community-based, minority language media. The details of the plan, announced Oct. 4, included $4.5 million over five years to create 100 internships, and $10 million toward the Minority Media Fund. This investment is a part of the government's Action Plan for Official Languages 2018-2023.
Edward Greenspon, Public Policy Forum (PPF) president and CEO, tells MiC the program is a big step in the right direction for community news and the Canadian media landscape in general.
"This is the kind of direct and transparent subsidy for what Canadians consider a public good," says Greenspon. He added that the program is in line with the kind of supports PPF outlined in its series of studies, The Shattered Mirror, which highlights the gaps left by the loss of community publications. "It helps maintain the flow of essential news Canadians need to sustain their democracy, but doesn't distort the market."
However, PPF's official stance is that this fund is only a small part of a larger solution. "There is no single magic bullet to save community news; rather it will likely be a combination of solutions, including online-only startups, new business models, philanthropy, and government subsidies like these," the non-profit's official statement reads.
PPF is among the numerous bodies calling for some form of government solution to assist community and legacy media in an era of digital disruption and falling ad revenues. Friends of Canadian Broadcasting has also proposed amendments to Section 19 of the Income Tax Act that would incentivize advertisers and buyers to invest in Canadian digital media. National daily newspapers have also asked the government to make a move; Postmedia's Paul Godfrey and Torstar's John Honderich are among those who have issued pleas to the government to invest in or assist legacy media companies.

According to Joly's ministry, the plan to help community-based official language media in a minority setting will be permanent after 2023.