Embrace tech, bring AI into creative and listen up: CMF Trends
The Canadian Media Fund sees opportunities for creators – and content marketers – through the rise of podcasts, voice and AI.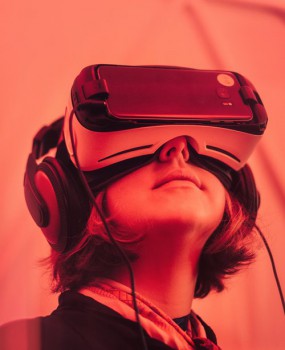 Amidst instability and change in the global media industry, experimentation is changing the way that content is created and distributed. And according to CMF's annual trends report, this year titled "Hold My Hand," 2018 marked a significant evolution in the way the audiovisual industry relates to technology
"Technology has long been blamed for being a divisive force, but some experiments highlight its uniting nature: virtual reality is being used in public spaces, smart speakers are making our homes interactive, and "edutainment" products are being increasingly used in a variety of learning environments," said report author Catherine Mathys. "Opportunities will abound for creators of interactive experiences in this era of experimentation."
Split into four sections, the funder's latest report dives into potential opportunities for creatives and content marketers, evolving business models, markets and competition, and technology and innovation.
Audio technology was identified as an opportunity for creatives through the continued rise of podcasts, in addition to the creation of content for smart speakers and interactive audio content for kids. Overall, audio consumption continues to grow, with Canadians between the ages of 18 and 34 showing the most enthusiasm for this medium, said the report. All told, 41% of this age group said they listen to a podcast every month.
Notably, smart speakers in particular are rising in popularity. Eight percent of the national population now owns a smart speaker and 37% of Canadians between the ages of 16 and 64 say they have used an Amazon Echo, Google Home or Apple HomePod or plan to purchase one in the coming months.
Content creators also continue to experiment with interactive stories, such as Netflix's Google Home audio adventure for Lost in Space. Meanwhile, in Canada, Groupe Media TFO created Boukili Audio, an interactive game for four to eight year-olds to learn French.
The report also argues that the out-of-home entertainment sector is a promising field. While VR is still struggling to gain traction in homes, location-based entertainment (LBE) at venues like movie theatre chains is on the rise. For example, in September, Cineplex partnered with virtual reality company VRstudios to open up various VR-based attractions in Canadian theatres, in addition to acquiring a share in the company. LBE also offers content creators the chance to reach a wide audience at a lower cost through these venues, giving audiences a high-end VR experience in a social setting.
Another future opportunity identified is the evolving relationship between artificial intelligence (AI) and the human creative process. Although this trend is not new, 2018 was the year people started to question the long-term impact of machines on the creative process.
Even with these changes, "Hold My Hand" argues that human contribution is still essential to a machine's creativity. Moving forward, the next step will be for creatives to learn how to meaningfully collaborate with machines, added the study.
The 2019 Trends report was written and researched by Mathys, Pierre Tanuay, Sabrina Dube-Morneau and Laurianne Desormiers.
A version of this story appears in Playback.