Quebec's oldest weekly to transition to monthly
The Stanstead Journal promises to come back for a monthly edition, but Quebec has seen a number of its papers shuttered.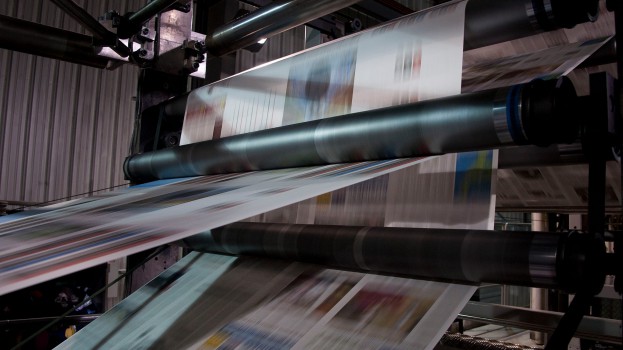 The Stanstead Journal, Quebec's oldest weekly newspaper, can no longer claim the title.
The Journal, founded in 1854 has published once per week for nearly two centuries.
Now, it's taking a small break from publishing, but it says it will return to newsstands in early July. A note from staff posted online says the weekly edition is "no longer a viable business and no real government help is forthcoming."
Plans are still being formulated for the paper's return as a monthly. Publisher Jean-Yves Durocher believes "this community still needs a paper-based news source, but a weekly one for a market this size, with no community support, is unfeasible."
Stanstead is located in the southern region of Quebec across the U.S. border from Vermont. The population sits at just over 2,800 and has been in gradual decline since the early 2000s. Nearly one-quarter (24.6%) of its population is over the age of 65, over-indexing well against Quebec's demographics (where 18% are older than 65) and Canada (16.9%). Its closeness to the U.S. border gives it a higher percentage of English speakers than French, and its median incomes are lower than the general population.
Despite the rising age of Stanstead's market, the publisher says it's catching onto digital and mobile technology. "While you would never see them with a phone or tablet two years ago, this is not the case today." Additionally, paying for online news is no longer taboo, so the newspaper is now looking at "a much better web presence" – set to roll out in the coming months.
As for paper editions, the model is not set in stone yet, but the Journal is looking to publish "about 10 times a year," with local news and features but with less filler material such as crosswords and recipes. The Journal's physical office closed for business June 3 and will be officially vacated in July. Durocher says a physical presence may not be part of the Journal's future.
The Journal, an independent paper, was the only major news source for the town, which is located 67 kilometres south of the mid-sized city Sherbrooke, Que., which is served by English-language daily The Record (owned by Vancouver-based Alta Newspaper Group) and the French-language La Tribune, owned by Groupe Capitales Media.
But the Journal is just one of many community papers that's had to either shut its doors permanently, reduce its print presence or transition to online-only – and studies show that these closures have a major effect on democracy and public information. And, as the papers that remain open operate on increasingly tight budgets, the quantity and quality of local coverage is impacted. In a 2018 study by Public Policy Forum found that over 10 years, the number of legislature stories, court stories and city hall stories have all been cut in half.
The report also found a 7% reduction in articles on civic politics that included opposing perspectives, a 6% reduction in articles that provided illustrative examples, a 4% reduction in pieces that included statistics or polls, and a 2% reduction in articles that provided historical context. Provincial reporting remained the same in quantity, but more came from newswires.
Advertising opportunities are also affected; Stanstead has no major radio stations or significant opportunities for OOH placements.
In the Quebec market, community news has been dwindling; in 2017, TC put nearly 100 community print papers up for sale. Many of those titles, upon their sale, were shuttered.
These closures have come even after the Quebec government made a pledge of $36 million over five years for newspapers in the province. Of that, $12 million was allocated to print companies, with the remaining $24 million pledged to help publications with their "digital transformations," funneled through two different assistance programs. Then-culture minister Luc Fortin also officially recommended an increase in ad spend to local news, with all ministries devoting 4% of their ad spend to community media.
While this news was welcomed by larger news organizations like La Presse, others, such as Le Devoir director Bryan Myles, called the amount insufficient. Now, a similarly mixed reaction has occurred in the face of the federal government's proposed journalism support fund, which recently selected representatives from News Media Canada, Unifor and others to help determine where funds should be allocated.