PizzaForno racks up Indie cred with its first major media play
The partnership with Indie88 drives awareness around the automated pizza-maker with discounts and freebies.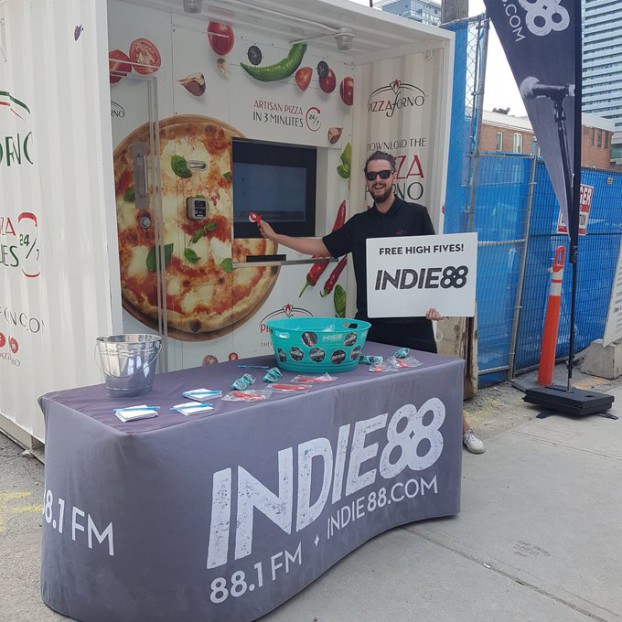 PizzaForno, which specializes in providing baked artisan pies through teeny tiny impromptu streetside kitchens (or, perhaps more accurately, vending machines), has teamed up with Toronto radio station Indie88 for a week-long promotion of the brand and its unique approach to pizza-making.
The alternative radio station's street team will spend the lunch hour (11:30 am to 1:30 pm daily) onsite at one of three downtown PizzaForno locations offering a chance to win a $2 discount and free pizza for a year.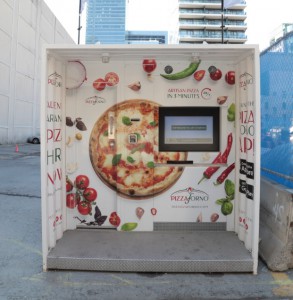 Co-ordinated by Advertiise, it's the first major media partnership for the brand, which launched in Dec. 2018. Les Tomlin, co-founder of PizzaForno, tells MiC, Indie88′s audience aligns with the brand's "fun GTA crowd" and although "the demographic of pizza is there kind of is no demographic," he says, it was a place to start with an integrated out-of-home strategy.
Bringing automated pizza to North Americans was a new concept, one with technology adapted from France where the idea of "machine-made" pizza is a already more than a decade old. Equipped with refrigeration, each "pizza ATM" uses an arm to select ready-made pizzas that pop pies into an oven before dispensing them to waiting customers on the other side of a digital screen up on which they order from six pre-set selections.
The messaging with the media plan was primarily to educate customers, says Tomlin, who hedges a bet the quality of PizzaForno rivals any other artisan pizza-maker in the city. With three locations set for the activation – in the Entertainment District, Yorkville and Vaughn Metro Station – the goal is to continue to spread brand awareness, encouraging further trial from curious customers.
"Radio is so hyper-localized," Tomlin explains, "and that's how we're selling pizza." With eight locations across Toronto, the brand also relied heavily on radio when it launched in Sudbury, Wasaga Beach and the forthcoming Ottawa location. "The localness of radio and the cost effectiveness helps get the message out to the masses for something so new and never really seen before in North America."
Tomlin's confidence in the Indie88 street team ("they've got such energy") coupled with both the station and the brand's social and web presence is "a really good 360 integration," he says – one that is also planned for a similar action next month in Sudbury.