No Name says yes to largest campaign spend in 40 years
The Loblaw-owned brand is hanging a lampshade on its media buys, making the spots as conspicuous as possible.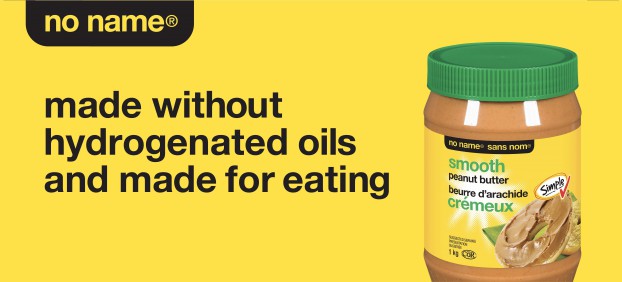 Most people who have grown up in Canada know the iconic packaging without having to look twice. The design could possibly be called minimalist, if it weren't for the bright yellow labels and bold Helvetica font that don't exactly scream Scandinavian simplicity. Nevertheless, Loblaw's generic brand, No Name, has become a bit of Canadian folklore since it was introduced in 1978. The label adorns virtually any product one could find in the grocery store, from rice and cereal to canned goods and now even beer.
Now, No Name is tackling a new(-ish) frontier: media.
The brand has launched its first national paid media campaign in 10 years. This is coming off a concentrated strategy by No Name to draw extra attention and earned media through a tongue-in-cheek social strategy pioneered by its two-person in-house team. Now it's taking it to paid channels for the first time in 10 years, with this being the largest campaign spend in its entire brand history.
The national campaign officially launched Sept. 5 on TV and YouTube, with support from OOH transit takeovers, including TTC dominations, GO Transit and even a No Name branded taxi. The month-long campaign was launched in conjunction with the introduction of No Name's Simple Check products, which are made without 10 key ingredients including synthetic colours, artificial flavours and artificial sweeteners.
Uwe Stueckmann, SVP of marketing at Loblaw Companies, tells MiC the Simple Check introduction gave No Name the opportunity to get the message out more broadly. "It was time to tell [our] story in a bigger way… We wanted to bring people in and experience the world and culture of our brand, and it was important to reach as many Canadians as we could."
In the decade since the house brand's last campaign, Stueckmann acknowledges that the media landscape has changed, however, the biggest channel for investment with No Name was not digital, but rather OOH. "The creative itself inspired the media plan," he says, noting that No Name has long been known for its "sense of humour," which reads best through wall murals, billboards and transportation activations.
For the digital ads, No Name hung a lampshade on digital trends, creating a "viral cat video" in which the feline star of the spot refused to cooperate with directions, something most owners of non-model cats know all too well.
No Name worked with Dentsu on media, as well as John St. on creative and Citizen Relations on PR.