CBC Sports partners with the International Swimming League
A new partnership will see the ISL's inaugural season broadcast on linear and digital platforms featuring Canadian Olympic champions competing.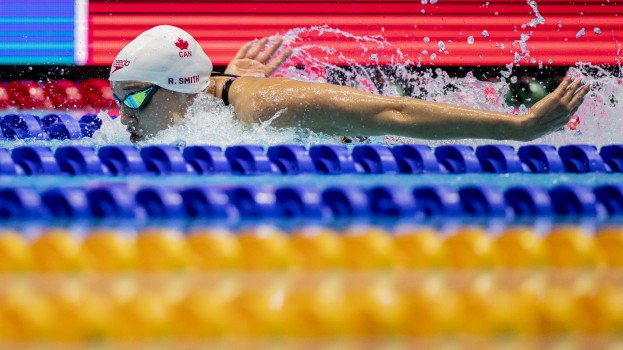 CBC Sports has partnered with the International Swimming League to broadcast its inaugural season on linear and streaming platforms.
The ISL is a global professional team competition, the first of its kind, set to launch Oct. 5 in Indianapolis. Among the Canadian swimmers will be Olympic gold medalist Penny Oleksiak and World Champion Kylie Masse, who will compete on behalf of eight clubs made up of current Olympic champions.
Chris Wilson, executive director, sports and Olympics at CBC tells MiC the ISL is investing in a unique presentation with a focus on entertainment – the finale is at Mandalay Bay in Las Vegas, Nevada – and giving athletes a platform to continue competing.
Swimming is a "core spot" for the broadcaster as it prepares for the 2020 Summer Olympic Games in Tokyo, Wilson says. With Canadian athletes participating and the gender-balanced schedule, coverage of the league fit nicely with CBC's priority to cover women's and men's sports equally, he explains.
Coverage of the ISL will run weekly as part of Road to the Olympic Games and will stream on cbcsports.ca, the CBC Sports app and CBC Gem. The apps, says Wilson, "have given us a really interesting platform to provide live sports outside of our main network where we're limited with only one channel." In July, coverage of the World Aquatics Championships on CBC drew a 2+ average minute audience of 104,000, reaching 2 million unique Canadians over six broadcasts. During the same period, cbcsports.ca saw 45,000 video views and 28,000 on the CBC Sports app.
"ISL is trying to position the sport as something that is entertaining and easily accessible and showcasing the stars," says Wilson. Typically the CBC audience who tunes in for sports skews 25-54 across all genders. "It's a passionate audience," he says, and one that "appreciates immensely that we don't just show up the day before the Olympics to pay attention" to swimming.
Says Wilson: "One of the things we're proud about is that we cover Olympic and Paralympic athletes and sports 365 days a year."