TV ad revenue drives growth at Corus in Q4
"What a difference a year makes," said CEO Doug Murphy, noting Corus' 7% growth in its TV ad business for the year.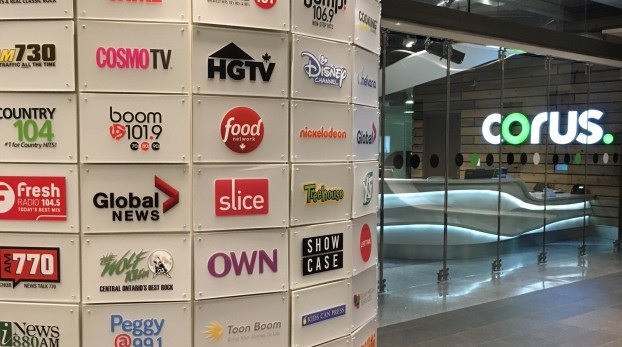 A continued resurgence in TV ad revenue helped propel Corus Entertainment back to growth in 2019 following tough years in fiscal 2017 and 2018.
The company on Friday reported that its yearly revenue had climbed by 2% to $1.69 billion, up from $1.65 billion in 2018. That increase was driven by a 7% uptick in TV advertising revenues, which climbed significantly to $967 million in 2019 from $903 million in 2018 . Yearly profit rose 2% to $585 million, from $575.8 million a year ago.
On a quarterly basis, revenue dipped slightly to $377.5 million from $379 million , while profits fell to $109.8 million in the most recent quarter from $114.6 million in Q4 of 2018 . On the radio side, yearly revenues decreased by 4% to $142.6 million. Quarterly revenue slid by 2% to $33.7 million.
President and CEO Doug Murphy opened Friday's year-end investor call in defiant mood. "What a difference a year makes. At this time last year, we faced skepticism about our ability to deliver television advertising sales growth in a fast-changing media environment – and yet we did just that. There were those that said we couldn't de-lever fast enough – and yet we did just that," he said. The company's strategic investments, coupled with its continuing efforts to leverage debt from the Shaw Media acquisition in 2016, have helped to build a "stronger, more resilient" Corus, he continued.
This year has seen Corus introduce a number of new initiatives and build on existing ones, with Murphy highlighting a number of them, including: the launch of its multi-channel TV package StackTV via Amazon Prime Video Channels; Corus' full acquisition of Kin Canada; the continued streamlining of its specialty portfolio; and the continued growth of its "own more content" strategy via its Corus Studios banner.
In its specialty channels business, 2019 has seen the closure of a number of Corus' channels and the rebrand of others. Among them, Corus replaced its long-running specialty service Action with the Canadian version of Adult Swim in April. It also shuttered Cosmo and IFC as part of an ongoing strategy to reduce the number of specialty channels it operates in Canada.
Murphy said Corus would continue to take a "fewer, bigger" approach to its specialty portfolio. When Corus acquired Shaw Media in 2016, the combined entity had 45 specialty channels. That number is now down to 35, said Murphy, adding that Corus will look to streamline that number further as it attempts to amplify those specialty brands in a crowded marketplace.
Elsewhere in the specialty portfolio, Corus said multi-platform channel deal with Crown Media Network-owned Hallmark Channel had contributed to 13% yearly audience growth on W Network.
Meanwhile, Corus executives said the traction gained by StackTV, which sees specialty channels including Food Network Canada, HGTV Canada and W Net offered outside of a traditional cable package for the first time, has "exceeded expectations," though declined to provide any metrics.
CFO John Gossling did note, however, a pair of interesting points. First, that the majority of the subscribers to the service are watching "primarily live, as opposed to on-demand" content through the service. And second, that the majority of subscribers to the $12.99 per month service have been from "outside the BDU system." He added that Corus does not see the OTT offering as eating into its BDU revenues. "It's blue ocean, not cannibalistic," he said.
A version of this story appears in Playback.