Catelli goes big with OOH to reach young parents
The multi-channel plan for the pasta brand's health-focused line also includes TV, digital, social and SEM.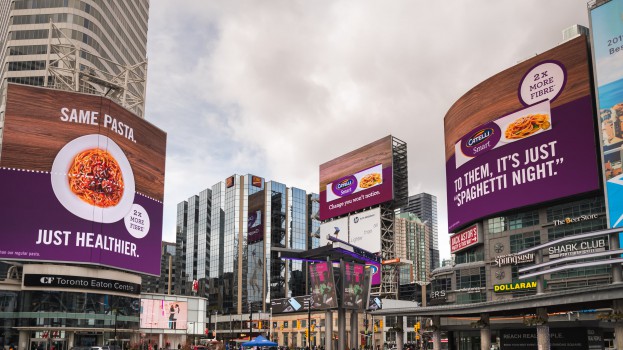 Catelli used Family Day weekend to launch a new Catelli Smart pasta campaign built around a big OOH buy, kicking off with digital screens at Toronto's Yonge and Dundas Square for a 12-week run.  As part of the launch, brand ambassadors hit the Square Saturday to test the public's pasta knowledge, rewarding participants with boxes of the healthier pasta option.
The campaign only runs in Quebec and Ontario, using a combination of OOH, TV, digital, social and SEM. The Quebec media plan is TV only, with OOH hitting five key Ontario markets – Toronto, Ottawa, Kitchener, London and Guelph, areas with a high percentage of young families.
The messaging is laser focused on Catelli Smart's "Two-Times The Fibre" health benefit, and stressing that it comes without taste sacrifice – articulated as "Change You Won't Notice" and "Same Pasta. Just Healthier."
Catelli senior brand manager Alistair Senn says "as soon as you have kids, convenience, price, taste and health all become more important. Catelli Smart is definitely cost effective and tastes just like classic pasta so it's a crowd pleaser."
Senn says leading with OOH in Ontario and a TV buy in Quebec is the result of prior testing conducted with Catelli's media agency Cairns Oneil Strategic Media, who handled the planning and buying. "We heard from people that OOH is dying but I truly don't believe it because of our testing last year. It's powerful if you keep the message simple and distill it to make it clear. TV in Quebec is also something we started last year. The reach and frequency is very strong, especially in that market where there's great French language content."
The plan includes online ads designed to reach and to incent young parents via retargeting with a coupon offer.
The campaign is in market to May 10. The Catelli Smart ads were created by LG2, with English PR and brand ambassador activation by Proof Inc. and French-language PR by Capital-Image.
Featured image by Robert Okine.