Why Barrie Transit was a key win for Pattison
Winning the mid-sized "bedroom community" was key in linking its numerous municipal networks together, says Cam Milne.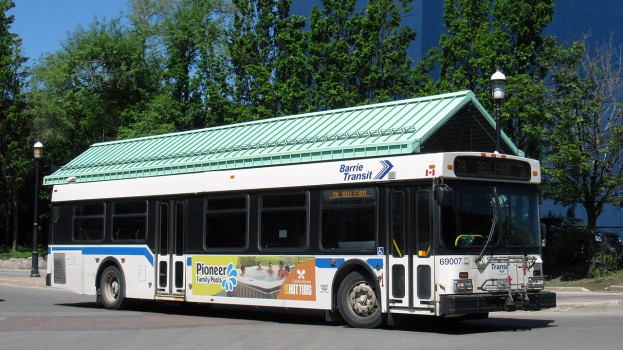 OOH provider Pattison has inked a three-year contract (with the possibility for a two-year extension) with Barrie Transit. Starting Feb. 29, Pattison will deploy its advertising across Barrie's fleet of 48 buses including exterior and interior advertising.
Cam Milne, VP/GM of central region for Pattison, tells MiC this goes beyond the buses. From a strategic standpoint, it's a very important piece of the puzzle.
For one thing, Milne says, Pattison already had a partial presence along Barrie's transit corridors, as the contract holder for Barrie's transit shelters (which includes 108 units). The range of products available across the market, Milne says, is now similar to the rest of Pattison's municipal agreements. And with a more complete hold on Barrie's transit ecosystem, Milne says it might start looking at digital options.
"It's obviously hard to do anything digital on buses, but when we look at shelters, there's possibilities. We're in another market testing digital right now, so once we prove the construction of all of this, we will probably have something that we roll out into other markets. Down the road, digital is very adventitious for us."
While Barrie is not technically within the Greater Toronto Area, the mid-sized city – population 150,000 – is still a "valuable bedroom community," says Milne. "It's almost becoming an extension of [Toronto], with the amount of people who move back and forth."
"When you look at the strategic value of transit, it becomes a whole network. We have the TTC agreement, we have GO, and outside of those two large agreements, we have 13 other municipal transit contracts," adds Milne. "[An ad] can touch someone because they live in Barrie, then it touches them as they come in through the GO, it touches them as they ride the TTC to get to their office tower. And then we also have digital screens in offices and residential buildings."
Other recent additions to Pattison's transit network include Grand River Transit, which covers Kitchener, Waterloo, Cambridge and Guelph – also communities Milne says have become more popular as bedroom communities.