Apple News+ ups its functions, adds Le Devoir and The Globe
The French-language paper is the first of its kind on the app.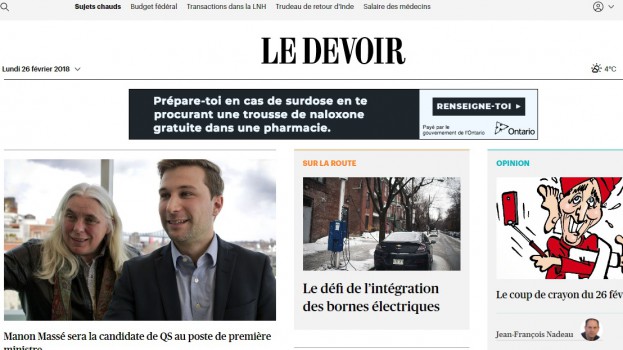 Apple News has rolled out a number of new features including audio stories and a new daily briefing show.
It's also signed on more publication partners as part of an effort to expand its local and regional coverage. While many of the new titles come from Stateside (including the Raleigh Observer and the Miami Herald), it's signed on two core Canadian players, including one French-language paper.
Le Devoir and The Globe and Mail are now available to Apple News+ subscribers. The subscription service , which gives users access to hundreds of magazines, newspapers, and premium digital publishers, first rolled out last year. Among the first Canadian publications to bet on the service were Chatelaine, Maclean's and the Toronto Star. The paid service costs $12.99 per month and includes revenue sharing. Le Devoir is officially the first French-language paper on the app.
Brian Myles, general manager of Le Devoir, says this is a good fit for both Apple News + and the newspaper, since both run on a subscription model. Myles has long believed that the paper's success hinges largely on subscriber loyalty, and that although advertising does play a part in the company's future, donation and subscriptions help it not depend on ads as the market fluctuates.
"It's two companies who realize value through subscriptions," says Myles, referring to Le Devoir and Apple. "It's more a partnership than a deal. We think we could actually introduce Le Devoir to a new audience, to people who wouldn't necessarily subscribe to the newspaper."
Exposure may convert people from being Apple News+ subscribers, where Le Devoir will get a cut of the revenue, to subscribers to the paper itself. "We believe we'll have more people in the funnel of convergence. The more users you have, the higher the chance we can convert them to subscribers in the end."
But if that doesn't happen, Myles says, the only risk that Le Devoir is taking is exposure to a new audience. Even if readers aren't converted to subscribers, the newspaper will still have the opportunity for a good share of the revenue, and that is ultimately a win, he says.