RiverTV takes the streetcar for its launch
With a brand new service but a smaller budget, the OTT provider took a chance on transit advertising.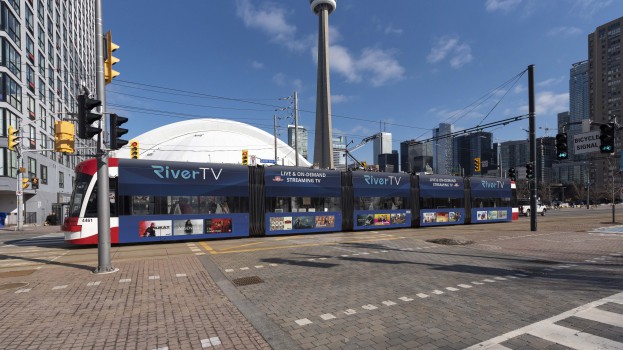 RiverTV has officially launched with an eye-popping streetcar wrap and interior streetcar ads. The OTT service worked with Pattison Outdoor directly to plan the campaign and handled creative in-house.
RiverTV includes on-demand and live-streamed content and currently features more than 30 channels, including many popular entertainment and lifestyle networks in Canada, and eight exclusive U.S. channels.  Channels include History, Makeful, Treehouse, Adult Swim, DrinkTV and more. More channels will be added, some of which will be offered as add-on packages.
While launching with an OOH campaign – specifically transit – might seem counter-intuitive right now, George Burger, co-founder and COO, says there's method in the madness.
"The question I'm asking myself is: will it work? We'd done a lot of thinking about The OOH campaign. Initial surveys found an awful lot of interest coming from Toronto as opposed to Vancouver or Montreal. We also thought, we don't have very deep pockets. We saw this fantastic streetcar opportunity and thought, the streetcar runs through heart of downtown where a lot of influencers spend time."
Most of the streetcars go to the residential areas the east of west of downtown, the sweet spot for RiverTV's target demo – Millennials, both single and those with families. But the secondary target is older women.
Burger says, "With the May beta test, we found a lot of those interested in trying RiverTV out were young men who are into streaming platforms. What we found at the same time was that some of them were letting their moms watch it – and their moms wanted to get it. From their point of view, $16.99 for virtually all the channels their moms tend to watch is a great bargain. Frankly, we hadn't thought about older females but we're very keen to market ourselves to them.
The goal of the campaign is to drive brand awareness, subscriber growth and customer engagement. The 12-week campaign runs until October and will be supported by multiple marketing initiatives including digital and online advertising, a social media campaign, a test of Google Ads and more.
River TV is developed by independent telecom and broadcast provider VMedia Inc.