Blue Ant reveals new lineup of original programming
The lineup includes co-productions with APTN and original commissions across Cottage Life, T+E, Love Nature and Smithsonian.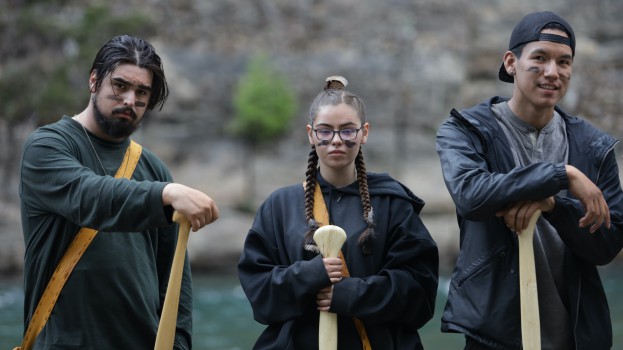 Blue Ant Media has greenlit several new titles across its lifestyle and factual channels for the 2021/22 broadcast schedule, including two co-productions with broadcaster APTN.
The Toronto-based media company will premiere three new series for Cottage Life, one series and a two-part special for T+E, one series for Love Nature, as well as a special for Smithsonian Channel Canada. The slate is overseen by Sam Linton, Head of Original Content (Canada) at Blue Ant.
The Cottage Life lineup includes APTN co-productions Dr. Savannah: Wild Rose Vet (9 x 30 minutes; working title) and a third season of the APTN series Merchants of the Wild (pictured). The series follows veterinarian Dr. Savannah Howse-Smith as she treats animals in rural Alberta and learns more about her recently confirmed Métis heritage.
Merchants of the Wild (13 x 30 minutes) is a docuseries featuring six Indigenous adventurers on a survival journey through an ancient waterway trade route. Blue Ant has also acquired the first two seasons of the series for Cottage Life.
The third Cottage Life series is Mysteries from Above (10 x 60 minutes; working title), which is produced by Blue Ant-owned prodco Saloon Media and distributed by Blue Ant International. The docuseries uses drones to film hard-to-reach locations and offer rare footage of structures, landmarks, creatures and lost civilizations. All three series are set to premiere in spring 2022.
Eyewitness: UFO (8 x 60 minutes; working title) is a brand new commission for T+E set to premiere in summer 2021. The series shares modern-day accounts of UFO sightings with cell phone footage and first-hand accounts.
The channel will also premiere two-part special Bathsheba (2 x 60 minutes) in fall 2021. The special investigates the real-life inspiration behind the ghoulish character from the film The Conjuring. Blue Ant and production company Cream have committed to hiring an all-female production team for the series to help meet industry gender parity goals and offer mentorship opportunities. Both titles are distributed by Blue Ant International.
Battle of the Alphas (12 x 30 minutes) has been commissioned for the Love Nature channel for an early 2022 premiere. The series looks at the science behind animal conflicts, from babies fighting over mother's milk to adult territorial battles. Meanwhile, the one-hour special Treasures from the Maya will premiere on Smithsonian Channel Canada in spring 2022. The special uses LiDAR laser imaging to depict the ancient Maya civilization as it stood centuries ago.
Mysteries from Above, Eyewitness: UFO, Bathsheba and Battle of the Alphas will all have world broadcast premieres on their respective channels.
Photo credit: Paul Neary
A version of this story first appeared on Playback.