Behind Bloom's bet on celeb video platform HeyAllo
The Montreal-based agency is building on the social platform's potential for experiential and event-based campaigns.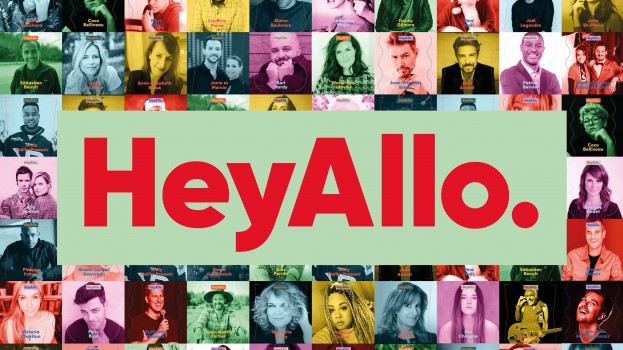 Since its beginnings in 2007, digital agency Bloom has been specializing in paid search, display, social ads, SEO and digital strategy for its clients, and now it has acquired a minority stake in its client, HeyAllo, a 100% Canadian digital platform that connects local personalities with their fans through short, personalized video messages.
HeyAllo was launched four months ago, and now lists over 175 celebrities on the platform, appealing to all ages and tastes, from the worlds of entertainment, music, sports, superheroes and drag queens. Users can choose the personality and the type of content they'd like to receive – personalized voice message, virtual shoutout, or dedicated music performance. Cooking advice, virtual autographs, voice recordings for phone rings or answering machines, and other creative ideas are also being offered.
Most of the celebrities currently enrolled on the platform are Canadian, and while HeyAllo will soon be opening up to celebrity opportunities in different countries, Bloom's goal is to build more awareness around the platform specifically in Quebec and across Canada. When consumers send a personalized video message through HeyAllo, the celebrity they've chosen has the opportunity to donate a portion of their fees – which range from $20 to $300 – to the charity of their choice. Donations have already reportedly surpassed $25,000.
According to Marie-Joelle Turgeon, marketing manager, Bloom, the platform is currently experiencing 40% monthly growth. "We are officially launching the English Canadian site by the end of this month."
HeyAllo targets all ages, but Turgeon notes that, so far, women 35 to 44 year old are the most engaged on its social media platforms.
"HeyAllo currently does brand awareness campaigns on social media and we are looking to expand our digital advertising opportunities to other platforms in the near future," Turgeon says. "During our first few months as a business, we relied almost exclusively on word of mouth and organic initiatives to get the word out to both fans and the celebrities."
HeyAllo does not offer explicit advertising opportunities right now but Turgeon says when it does, they will likely lean towards experiential and event-based partnerships, since two of its founders are from the event planning industry, working with Cirque du Soleil and many clients around the world.