Meridian boosts spend on traditional media to strengthen its brand
The credit union is using more TV and OOH to complement its digital strategy and build its awareness across demographics.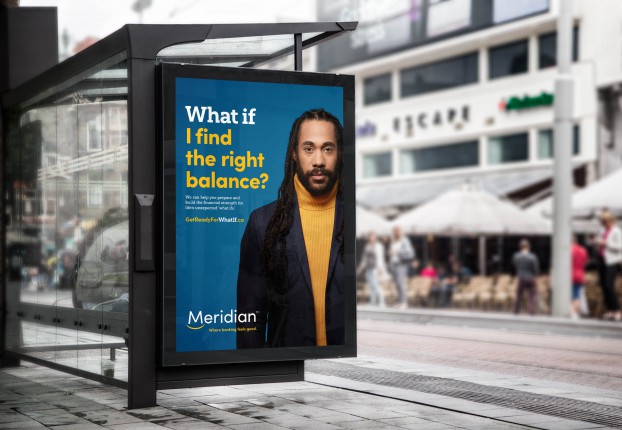 Meridian strayed from its product-focused strategy to a brand awareness campaign that weaves more traditional media into the brand's channel mix.
Meridian – the largest credit union in Ontario, and the second largest in Canada – launched its "What if" campaign earlier this week to cut through the clutter of Big Five banks by focusing on financial concerns that are top of mind for many Canadians during the pandemic. This is the credit union's first campaign that focuses on its overall brand and value proposition, having previously focused on specifics products and services.
"The research varies," says David Moore, Meridian's chief marketing officer, "but 55-to-60% of Canadians fall into that bucket of not being satisfied with how their financial institutions are helping them with their financial health."
The main challenge, says Liz Jewett, Meridian's senior manager for website, content and media, is that the marketplace is cluttered with the Big Five banks, digital bank entrants and multiple fintech offerings. "The right media mix is going to help us break through."
In response, Moore says Meridian is spending 30% more on the media for this campaign than they have in years past.
The video-first campaign features spots for both traditional and streaming TV, complemented by a strong digital and social buy, with a strong focus on Instagram, Jewett says, where Meridian has been seeing a lot of success.
The credit union's target for the campaign was broad by design, says Jewett. "We knew there would be a lot of spill, and we would be able to extend that reach to other demographics," due to the fact that Meridian has products and services catering to a range of consumers. Potential customers can be Gen Z or millennials looking for their first home, or slightly older clients looking for an upgrade, or empty nesters and retirees who want to safeguard their financial future.
"Instagram spoke to one end," says Marilyn Sherman, media director at Twenty6two, the media agency who helped support Meridian's buy, "and then the news properties that we bought on linear TV, or spots during Blue Jay games spoke to a different audience."
Sports – which also includes the upcoming NHL playoffs – was a key part of the buy, Sherman says, because the audience skews a little older, adding that the linear TV buy was a "good combination of top 20-ranked shows, sports and news." That older end of the demo was also addressed with a more traditional print buy in the Globe and Mail and National Post, which went out May 12, Jewett says.
It also has contextual out-of-home activations to ensure the brand could get in front of 25- to 54-year-olds in the coming months, as they prepare to go to parks, ride bikes and otherwise safely go outside for exercise. Meridian targeted traditional transit shelters and the Gardiner Expressway, but also billboards in areas where Meridian branches are located. That's a departure for the brand, Jewett says, because Meridian has typically focused on digital engagement to feed into its online onboarding process – but if people knew there was a physical location in their area, it would allow Meridian to layer a community component onto its messaging.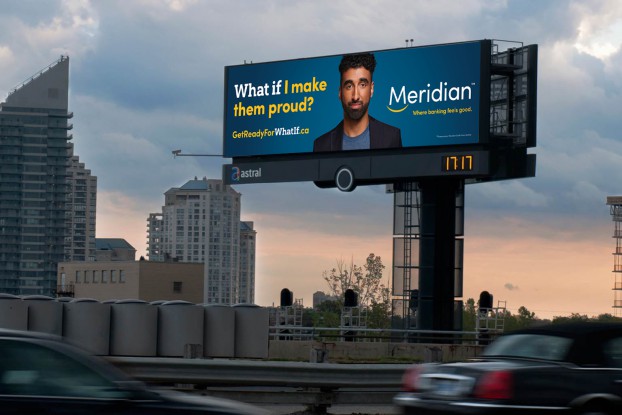 While the campaign targets residents of Ontario, certain activations went national for economies of scale around the buy, and because Meridian actually does service people across Canada, particularly with its direct brand Motusbank. As a result, Globe and Mail and National Post print ads featured Meridian branding in Ontario, but creative shifted to Motusbank outside the province.
The TV campaign started on May 10 and runs until the end of June. OOH starts May 24 and runs all summer, and then Jewett confirms TV and digital will turn back on in the fall.
Campaign creative was developed by SOS with production by Impossible Studios.