TVA Sports takes Euro 2020 to Montreal streets
The campaign features an immersive, interactive OOH transit shelter activation running for the duration of the international tournament.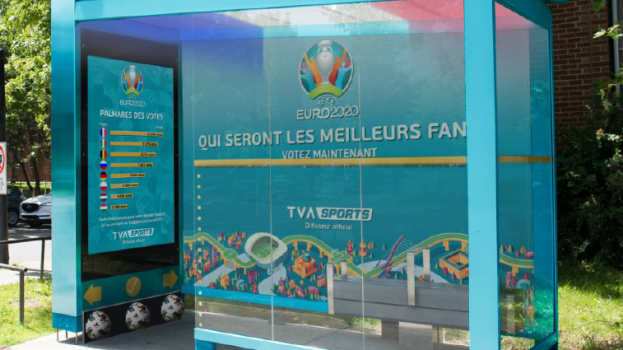 TVA Sports has taken soccer fever to the streets of Montreal with an immersive and interactive transit shelter activation powered by Quebecor Expertise Media's out-of-home division, positioned to build excitement (and viewing) around UEFA Euro 2020, a top-tier soccer tournament.
The transit shelter invites passers-by to vote for their favourite team by kicking a virtual soccer ball. Once they've made their choice, they'll hear the team's national anthem as the transit shelter ceiling lights up with the national flag colours. After that, the shelter reverts back to the colours of the team having registered the most votes thus far. The transit shelter is located at the corner of Pie IX Blvd. and Sherbrooke St. Fans outside the city can vote for their favourite team at eurotvasports.ca.
The campaign officially launched June 10, as TVA Sports offered people an opportunity to take on former Montreal Impact Captain Patrice Bernier, tournament anchor Andy Mailly-Pressoir, and former Impact player Rocco Placentino on a miniature soccer field set up near the transit shelter.
The campaign also includes advertising banners on TVA Sports' website and social medias pages, as well as on TVA's morning show, Salut Bonjour, and LCN's Québec Matin.
As the official French-language broadcaster of the UEFA Euro 2020, TVA Sports will be covering all the action of the tournament's 51 scheduled games from June 11 to July 11, and the transit activation will be live until the end of the tournament.
The Quebecor Expertise OOH network features nearly 9,000 bus faces, 143 digital screens and over 4,000 standard faces in the Greater Montreal (including Laval and South Shore), Sherbrooke and Lévis markets.