Spotted! Cirque du Soleil turns Yonge-Dundas Square upside down
Inverted cars (and other ads) will also appear at popup locations in Toronto leading up to a new show launch in April.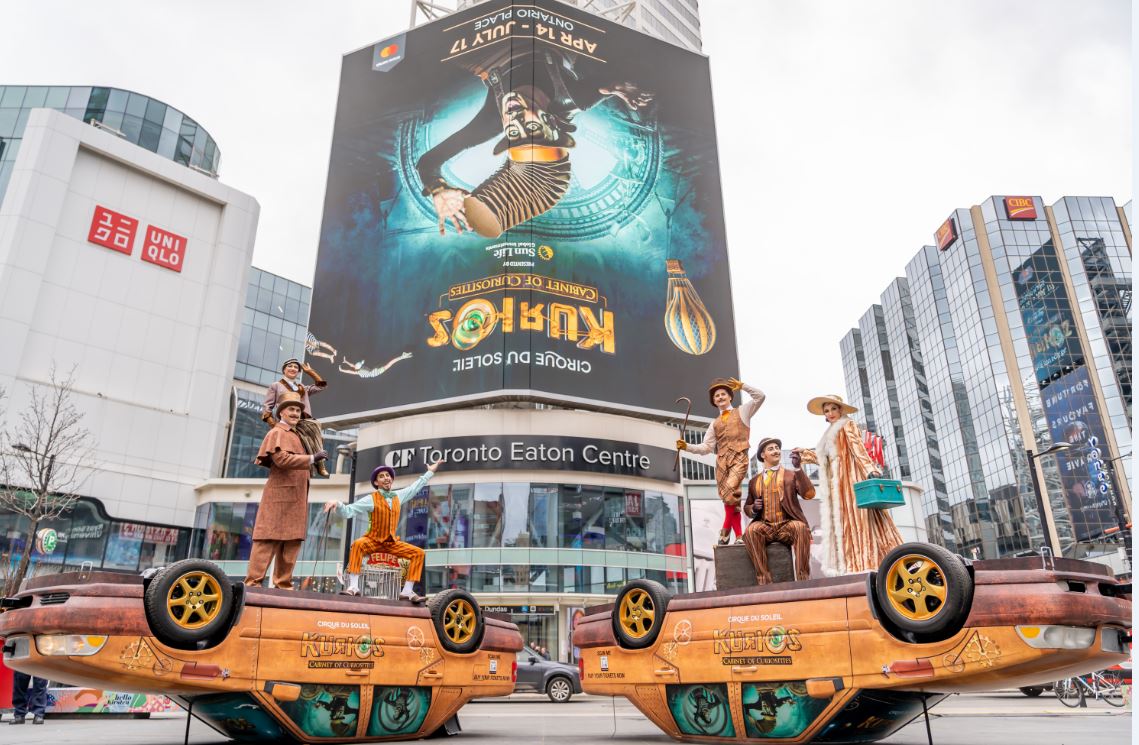 To promote the upcoming arrival of a new live show debuting in Toronto in April, Cirque du Soleil flipped its campaign upside down with a takeover at Yonge-Dundas Square on Friday.
Inspired by the unexpected nature of "Kurios, Cabinet of Curiosities," two full-sized cars painted gold were turned upside down in the middle of the square to grab the attention of those passing by. Additionally, video spots for the Kurios were also displayed across multiple boards throughout the square – which were also turned upside down. Though the cars remained in the space all day, Cirque artists performed at noon and gave onlookers a sneak peek at Kurios.
Each car had a QR code printed on it that enabled fans to purchase tickets to the live show, which runs from April 14 through July 17. The upside-down cars will also appear at popup locations throughout downtown Toronto from April 1 to 10.
The activation, which targets adults ages 25 to 54, will grow as it gets closer to the show's premiere date, including a roofscape unit in Dundas Square, streetcar wrapping and digital advertisements in transit shelters.
Earlier this month, Cirque du Soleil also partnered with Hotel X to transform one of its suites into a Kurios-inspired space. Guests will be able to book the suite for the duration of the show's run in Toronto.