How Alberta Milk is reaching young women
To connect with a target that under-indexes on dairy, the second phase of the "Smash Milk" campaign leans into digital and experiential.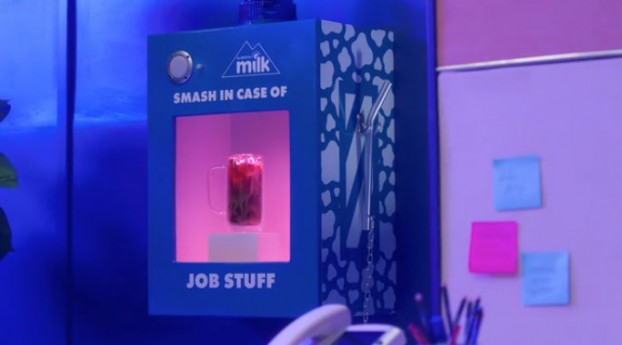 Alberta Milk is coming to market with a heavy focus on digital and interactivity to reach its "holy grail": young, urban women.
Carley George, VP of client services for Venture Play, Alberta Milk's AOR, tells Media in Canada the campaign is also about getting beyond COVID and once again advertising in an interactive way.
The second phase of the "Smash Milk" campaign breaks from norms in the sector with vibrant colours and a conceptual approach that shows different dairy products as an emergency escape for different day-to-day situations, be it work-from-home frustrations or a summer heat wave.
While the campaign targets all of Alberta, she says Alberta Milk placed a "heavier focus on core urban areas," where its target of younger women would frequent.
As George explains, research shows that – once they leave home – this demo starts to drink less milk than they did when in their teens. "Fortunately for us, Albertan women have connected with the Smash Milk concept."
The ad spend was determined based on reaching an effective frequency with this target demo within a two-month campaign. That was informed by learnings incorporated from the winter launch of "Smash Milk" campaign, which suggested the best split per medium: a 70/30 split between digital and traditional. There's a focus on DOOH, CTV, display and social.
"To control frequency of our messaging and increase the reach from our last campaign, we also incorporated Pinterest, which is new for this campaign" George says. "Pinterest is highly consumed by our demo and we knew it lends itself well to a variety of executions."
While this campaign was not the first time the dairy brand has activated on TikTok, it is excited about the campaign effectiveness of the platform. Alberta Milk also utilized programmatic audio (through streaming platforms like Spotify but also Sonos), a good awareness tactic to reach an audience where it lives.
"This summer, advertisements and activations on the streets were as critical as anything that showed up on a screen," George maintains.
The difference seasonally, George explains, is that for twenty-somethings, the summer represented leaning into out of home, events, activations and other media that more purposefully met its demo out in the world, rather than only on their phones.
The ad spend is not a redirection to a particular demo, but rather seeing value in presenting milk in a different way to younger female audiences. "The old rule applies: a solid strategy, smart creative, and deliberate media planning usually gets bankable results," George says.