Spotted! The Printing House warrior invades Toronto
Viking-themed characters raid the Canadian printing company's Toronto stores, with the antics posted online.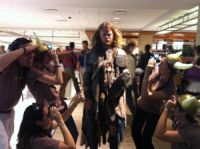 The Printing House, a Canadian printer with 70 locations across the country, is making a "historic" move toward creating some buzz around the brand, with a Viking ambassador, office-themed webisodes and an online contest set to run until July 24.
Yesterday, MiC spotted the "Printz" and his Nordic comrades in Toronto making appearances at each of the downtown stores and high traffic sites, including Yonge-Dundas Square, to spread the word about the printing co and its offerings.
"We really wanted to do something that grabs [consumers] attention, add some content that they can have some fun with," says Marc Petitpas, VP, The Printing House.
The team gave out posters and pamphlets of the Viking king accompanied by a QR-code, directing consumers to the campaign's dedicated website where they can enter to win prizes including a trip for two from Flight Centre.
Webisodes of the "Printz" and his day-to-day office adventures are also featured on the website and were created by Toronto-based Endeavour Marketing.
Additional elements include radio spots aired prior to the ambassador's Toronto appearance on stations including Kiss 92.5, as well as header ads on CP24 and social media outreach.