Betrendme.com targets trendy teens
The new fashion and lifestyle site uses celebrity influence to reach out to the under-20 set.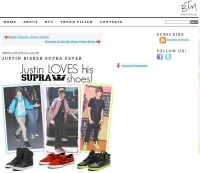 From Taylor Swift's baby-doll style to Justin Bieber's penchant for purple, teens are obsessed with celeb style.
Newly launched site Betrendme.com plans to capitalize on this obsession by creating an online content source which gives teens and young adults aged 14-to-22 information on the latest celeb-backed trends.
The Canadian-born site, co-founded by Dan Kanter, musical director for Bieber, and business partner Jason Ditkofsky, has received 45,000 unique hits since launching approximately three weeks ago. The site is currently in discussion with multiple advertisers, Ditkofksky tells MiC.
"Apart from the standard banner ad and button ad options, we also offer advertising in pre- and post-roll video spots," says Ditkofsky, "and we're definitely open to offering opportunities for sponsored content and product placement within articles."
One particularly advanced form of product placement in the works is technology that would allow the viewer of the site's upcoming web-video series to click on an item within the video and automatically be transported to the site where they could buy it.
The site has been promoting itself via social media, receiving more than 4,500 Twitter followers and 300  fans on Facebook since launching.
Ditkofsky notes the site will likely grow to encompass all aspects of pop culture for teens, and will include style interviews with pop culture stars, including, potentially, Bieber himself.