Teletoon tests the mobile waters
The channel has launched a gaming app for Johnny Test, allowing users to place iOS platforms side-by-side to play on one large screen.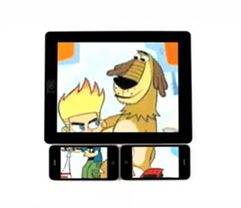 Ever been taken aback by the unexpected huddle of youngsters around a tablet or smartphone at a kid's birthday party? Well, times are a-changing and Canadian animation channel Teletoon is keen to go along for the ride.
The joint Astral and Corus Media-owned channel has recently launched what it claims to be the first of its kind, multi-device gaming app for its popular animated series, Johnny Test.
The "Roller Johnny" game, which was created by Kolody and Cookie Jar, allows players to rest different iOS platforms against one another and watch as the devices pair up to enable users to play with each other on one large screen. Players must choose to play either Johnny Test or his dog, Dukey, as they rollerblade about town while sandwiching bad guys.
Gavin Friesen, director, interactive, Teletoon, tells MiC that the channel was looking to launch its first app and wanted something that would be innovative and would stand out. Teletoon chose Johnny Test as the first of a series of game titles as it is one of the more recognized and successful shows on the channel, says Friesen.
"We see how kids in playgrounds and in focus groups naturally huddle around each other with these iOS devices, and we thought of ways in which we could leverage this idea of huddle play," he says. "Not only that, but also find a way that the kids can engage with their parents and their siblings."
To create buzz for the interactive game, Teletoon has placed a significant amount of ads on its website and will air a 15-second promo on the channel later this month, says Friesen.
Kids are always on the hunt for games on the Teletoon website, he says, as well as ways to interact with their favourite show characters, adding that, "it only makes sense that we extend our game offering into mobile where we can deliver the brand and the characters that the kids love."