McCain goes to the movies
The brand has partnered with Warner Bros. for a giveaway aimed at increasing market share during the winter months.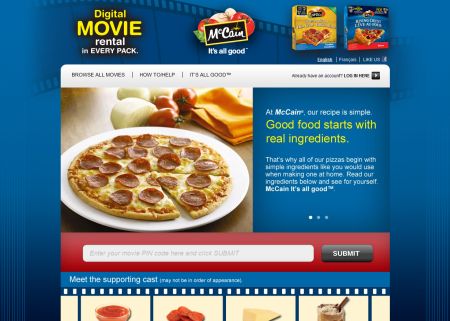 McCain is providing dinner and a movie all in one package with its latest promotion. Partnering with Warner Bros., the company has added a code to more than three million boxes of McCain Rising and Thin Crust Pizzas.
Users punch in the code on the box at McCainmovies.ca to redeem one of a selection of Warner Bros. movies as a digital download, including Ocean's Eleven and Happy Feet. The partnership between McCain and Warner Bros. was arranged by Hip Digital.
A national TV spot airing on conventional channels promoting the program, with media handled by AOR and creative from Taxi, launched in January, Paul Gallagher, director of marketing, McCain, tells MiC.
The goal of the campaign, which runs until the end of February, is to increase market share for McCain's frozen pizzas during the winter months, says Gallagher.
"We knew that having an 'every pack is a winner' type of thing is different because historically we have had contests where we maybe give away one or two big prizes," he says. "We knew this would be much more effective if there was value in every package that goes out."