Depend uses athlete power to remove bladder control stigma
In its first Canada-specific campaign, the brand asked figure skater Isabelle Brasseur and hockey player PJ Stock to try its absorbent briefs.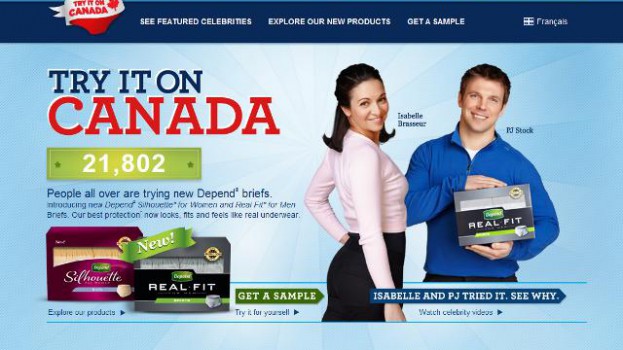 Kimberly-Clark's Depend brand is asking consumers to walk a mile in another man's shoes to fully understand the issue of poor bladder control.
Campaigning for the 3.3 million people in Canada who suffer from bladder control issues, the brand asked Olympic figure skater Isabelle Brasseur and hockey player PJ Stock to talk openly about the issue and try on a pair of its absorbent briefs.
Both athletes know a friend or family member affected by the condition and Paula Montoya, brand planning manager, Depend, Kimberly-Clark, tells MiC that the hope is to remove the stigma attached to the issue by showing their willingness to try the briefs out for comfort and size. The ask is extended to Canadians who do not suffer from poor bladder conditions, but would like to show their support for those who do.
Mindshare was in charge of placement of 30- and 15-second TV spots with creative on the campaign from Ogilvy (that will run during daytime and primetime programming), as well as radio and online. In addition, a microsite was created to provide information on the male and female brand products and to invite Canadians to "Try It On." Visitors to the site can download coupons and learn more about the Canadian athletes' stories.
"This is the biggest support that we've ever done for the brand," notes Montoya. "This is the first time that we've done something specific for Canada where we have not only the biggest investment with TV, a microsite, radio and PR, but we're also 100% Canadian-driven with the campaign being created in both English and French."