Tonight's non-paywall strategy
The free daily has beefed up its online offerings, with more content and ad units, in response to the recent surge of digital subscription services.
During the downpour of paywall announcements, evening commuter newspaper Tonight has decided to raise the bar on its online content in order to draw on an audience that's looking for "quick, to-the-point breaking news" without having to pay, John Cameron, publisher, Tonight, tells MiC. This week, the free daily unveils a revamped website that now includes quick news hits from Canadian Press and the Associated Press.
The door to free content closing on other sites provides a window of opportunity for Tonight, says Cameron, adding that paywalls provide a way for "[free] dailies to take advantage of being known in the marketplace as a provider of short news and doing it for free."
The daily will only be publishing short breaking news hits on its site, he says, catering to non-subscribers of paywalled news sites that may still use the limited amount of stories they can access for free to take a deeper look into things.
Tonight didn't bring much to the table in terms of its online offering before the website relaunch, says Cameron. Instead of just providing basic information about the paper and a PDF file of the daily print offering, the digital portal will now include a stream of short articles from partner press media, uploaded almost every hour, all day, every day, he says.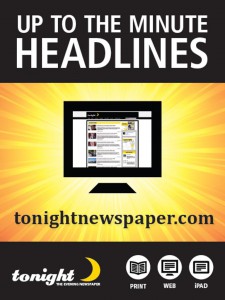 It's also making its largest media spend to increase traffic to its website, with OOH ads appearing on Pattison and IMA-owned billboards in downtown Toronto. The campaign, developed and planned in-house, also includes radio ads on 680 News and TV spots on CHCH, CTS and TLN, targeting suburban commuters who make up a large portion of the paper's readership.
The publication is also expanding its ad offerings, with Cameron explaining Tonight is now giving clients the ability to dominate the paper with full section wraps in combination with online dominations of the site and its mobile app through big box ads. "More of our clients were looking for multi-platform bundles," he adds. "We've been able to define ourselves with the some of the creative executions we've done in print, but we'd like to translate that creativity over to the web and combine it into one package." The first batch of advertisers to implement a multi-platform campaign with the publication will begin to roll out in the coming week, adds Cameron, without disclosing names.