Magazines must go multi-channel: panel
Steve Maich, publisher and editor-in-chief, Sportsnet and Merida Lake, brand director, Fresh Juice, share their thoughts on the future of the magazine nation.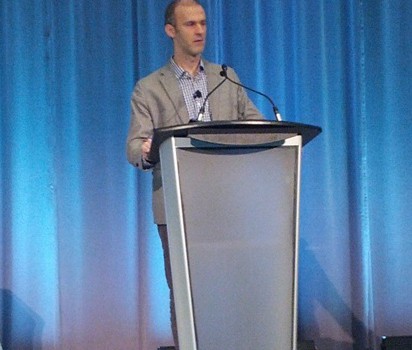 With digital and mobile devices giving magazine readers the power to choose when, where and how they consume content, is now the time to be launching a print publication?
The answer, according to a group of industry insiders who spoke at Magazines Canada's State of the Magazine Nation panel, is a resounding yes – as long as new publishers understand that magazines must become fully-integrated multi-platform brands to thrive.
"Magazine brands are extremely well positioned to capitalize on the growth in the digital and social spaces," Gary Garland, executive director of advertising and sales, Magazines Canada, said.
"Never before have they had such an enormous opportunity to make great branded content available whenever, wherever and however the reader wants it," he added.
Joining Garland were Steve Maich (pictured), publisher and editor-in-chief, Sportsnet magazine and Merida Lake, brand director, Fresh Juice magazine, both of whom launched their print titles in 2011.
While economic uncertainty has made the road challenging for new magazines, particularly when it comes to securing ad revenue, Maich argued that they've done themselves a greater disservice by trying to emulate the web rather than use it as a channel for unique content.
He pointed to the Sportsnet brand, which also includes TV, radio, digital and mobile channels and noted that it has succeeded because these channels "provide different kinds of coverage and act as promotional vehicles for one another, providing advertisers with a one-stop shop for reaching millions of Canadian sports fans."
Maich added that the days of magazines relying heavily on ad revenue appear to be fading, as more publications begin to activate paid services, but says that the new paid model shows promise.
"The fact is that millions of people pay real money to invite all of our products into their homes. When people are paying real money, you'd better believe that they're engaged readers," he explains.
But that's not to say that advertisers' days in print are numbered. Indeed, according to Magazines Canada's 2012 Consumer Magazine Factbook, ad revenue for Canadian magazines has outpaced the 12 leading countries, including the U.S., since 2007 and is expected to continue to grow.
Despite this, the fact remains that magazines will still need to find new ways to reach audiences and focus on providing complete packages, which include advertising that is relevant to readers.
For Lake and Fresh Juice magazine, the new model has been to form a distribution partnership with Loblaw, which sees the magazine circulated to 325,000 of the grocer's loyal customers, on top of the magazine's subscriber base.
Photo by Jordan Twiss