BBi Displays introduces land-based inflatable billboard
The new system will be available to Canadian advertisers through Tynk Outdoor starting in April.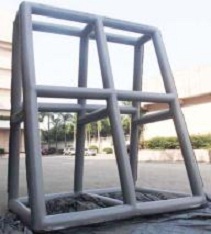 BBi Displays is coming ashore, and bringing a new billboard system with it.
The California-based company, which is known for its amphibious, inflatable billboard models, has launched its first exclusively on-land system, a move that Bill Barlow, CEO and president, BBi Displays, tells MiC will offer clients an alternative to traditional billboard advertising.
The inflatable land-based model, he says, works best for one-day events, but can also be a good fit for longer campaigns, as advertisers can relocate the billboards to further spread their messages.
Similar to BBi's amphibious models, the new land-based system is linkable, allowing advertisers to create larger billboard ads in 12-foot increments. It also uses the same size banners, making ads interchangeable with other BBi models.
Though not yet available to Canadian advertisers, Vicki Tynkaluk, president, Tynk Outdoor, says her company, which represents BBi Displays in Canada will begin rolling out the new models to advertisers across the country starting in April.
Tynk Outdoor is currently BBi's only representative in Canada. It began offering BBi's amphibious models in 2009.