Tic Tac Canada asks Canadians for a flavour
The brand has launched a digital-only campaign and a microsite that allows Canadians to cast their votes for one of three potential flavours.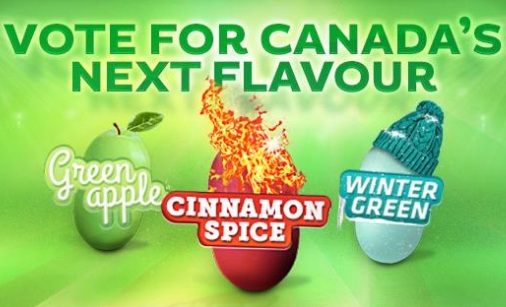 Tic Tac Canada is shaking things up with a new campaign that invites consumers to select the next limited edition flavour of the candy.
Targeted at the Ferrero brand's core audience of adults aged 18 to 29, the campaign, which is based on a similar idea by Tic Tac Australia, features media and creative by Toronto-based Noise Digital. The digital-only initiative relies primarily on a desktop and mobile a microsite that invites consumers to cast votes on three different flavours, including green apple, wintergreen and cinnamon spice.
Users can cast their votes by shaking the mouse on their computers, or shaking their mobile devices, and when they vote they are entered into draws for instant prizes, like samples of the three potential flavours, as well as a draw for the grand prize of $5,000 and a year's supply of the winning flavour.
Users can vote as much as they like, and the contest has already garnered more than 107 million votes since the campaign launched in May.
The campaign is supported by ads on Facebook and sponsored content on BuzzFeed that drives to the microsite, as well as content on its Facebook page, which currently has more than 579,000 fans.
Pamela Coolican, brand manager, Tic Tac Canada, tells MiC that this is the first time the brand has allowed consumers to get involved in choosing the next Tic Tac flavour. She says it was based on the insight that its Facebook fans like to talk about potential new flavours, adding the brand also saw it as a way to reward and engage loyal fans by allowing them to become co-creators with the brand.
She adds that the campaign is also a good way to help the brand build awareness for the new flavour before it launches in stores.
The new flavour will be named June 25, and will be released in stores in February 2014.