Spotted! Lego takes a Playcation
The toy brand is hitting the road for a cross-country tour that will see it bring a trailer to festivals and locations like Centreville Amusement Park, the Calgary Zoo and the PNE.
Lego is looking to add a little play to summer vacation this year with its Lego Playcation, a cross-country tour targeted at kids aged 4 to 12 and their parents that will let them get hands-on time with the brand's product lines like Star Wars, Friends, City and the newly released Chima.
The Playcation, which is being executed with help from BStreet, kicked off in Ottawa on Canada Day and saw the brand construct a giant Canadian flag out of Lego. The tour is currently in the GTA and will make stops at festivals and community events, as well as places like Centreville Amusement Park, before heading out West for stops including the Calgary Zoo and the PNE in Vancouver.
The Playcation is being supported by a microsite with a photo gallery and calendar of the tour dates, as well as flyers being handed out at Lego stores.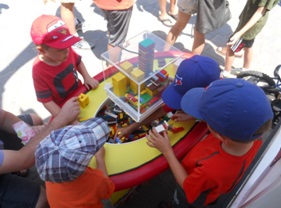 Tom Attard, experiential director, BStreet, tells MiC that this type of activation is new for Lego, noting that the brand wanted to break away from its traditional ad-heavy periods like Christmas and March break and leverage the fact that more Canadians are spending time outdoors.
He adds that it's also new for the brand because it has typically focused its efforts on major urban markets, but will be looking to reach out more to smaller communities with the Playcation.
He says that tours like these are the best way to connect consumers with the brand because they offer hands-on experience with the product, and adds that Lego also saw the Playcation as a chance to showcase the new Chima line.
The Playcation tour will end after Labour Day.