Spotted! St-Hubert products launch in Ontario
The Quebec-based restaurant introduces Ontarians to its branded grocery store products with a holiday gift.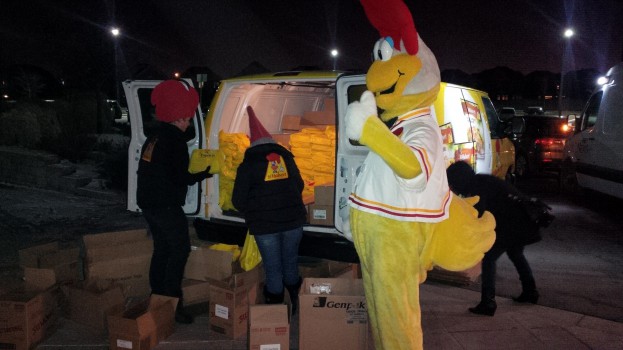 Hubert the Chicken has arrived in Toronto to celebrate the introduction of St-Hubert's meat pies to Ontario grocery stores with a giveaway campaign throughout the GTA this month.
From Thursday through Dec. 20, St-Hubert ambassadors will be giving away 20,000 free chicken pies at locations around the GTA including various GO Train stations and shopping malls during the evening commuter rush. Influence Marketing is handling the campaign that relies on social media engagement and a press offensive to target men and women in the GTA, especially parents 30 to 45.
Martin Rydlo, partner, Influence Marketing, tells MiC that St-Hubert is targeting busy commuters who aren't necessarily listening to radio or watching television, but will check their smartphones during their commute, and may find themselves at the end of the day wondering what they're going to make for dinner. Rydlo says the campaign strategy is to reach these individuals during the very busy holiday season, and they're counting on social media users to spread the news on Facebook and Twitter.
Rydlo calls this give-away the launch component of the campaign to introduce Ontarians to St-Hubert's meat pies as well as other grocery products that are already widely available in Quebec. There is a strong awareness in Ontario of St-Hubert's restaurants, says Rydlo, but it doesn't extend to their sauces, meat pies and other products.
But beyond the excitement of free chicken, there is an incentive for social media users to get involved. The first person to snap a picture of mascot Hubert the Chicken each day of the campaign will receive a $50 gift card, with a final prize of $500 for the best picture at the end of the nine-day period.