Internet usage continues to grow: MTM
Time spent online has grown to almost 21 hours per week according to new data from Media Technology Monitor.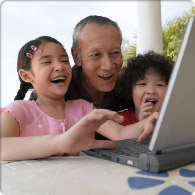 Time spent online continues to grow. According to new data from Media Technology Monitor, Anglophone internet users on average spend 20.7 hours online per week. That's up from 20.1 in 2012 and 13.8 in 2008.
According to the report, internet use has grown by 31% over the past decade, growing fastest among those 50 and over as they begin to catch up with their younger counterparts. In the fall 2013 survey, 89% of those aged 50 to 64 reported using the internet within the last month, along with 66% of those 65 and over, a slight increase from 87% and 64% respectively the previous year.

The heaviest internet users tend to be younger, earn more than $150,000 per year and live in large cities, according to the study. People making more than $200,000 a year spend an average of 28.2 hours online per week. Students and visible minorities also over-index on internet use.
People who own internet-enabled devices spent more time online than average, with smartphone users spending 23.3 hours per week, and those who watch video on cellphones spending 28 hours per week online. Anglophones without TV subscriptions spend more time online (27.1 hours per week) than TV subscribers (19.7).
Also of note from the report, 55% of people now use a laptop as their primary home computer, and 71% of Anglophones have Wi-Fi in their home. The one in eight anglophones who do not have internet connections in their home are more likely to be older, less educated and live in lower-income households.
Data courtesy of Media Technology Monitor. Results based on the total sample of 4,009 Anglophones are accurate within plus or minus 1.5 percentage points, 19 times out of 20. 
Image via Shutterstock.