Sail-in Cinema returns to Toronto
Intercept Group will again produce the outdoor movie experience viewable from land or water coming to Sugar Beach this August.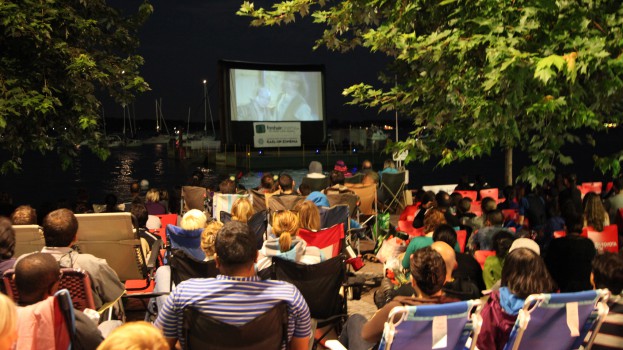 Sail-in Cinema returns to Toronto's waterfront for a fourth year this summer. For the second year in a row the Toronto Port Authority has selected Intercept Group to produce the event, which will see attendees watch movies projected onto a screen on a barge in Toronto Harbour, viewable from land or from the water on a boat. This year the event runs Aug. 14 to 16 at Sugar Beach.
Jessica Walker, account manager, Intercept Group, tells MiC the event is expected to draw about 6,500 people on land and as many as 90 boats, an estimate based on the number that attended last year. The primary target audience is adults 18 to 34, with a secondary audience of families with kids, she says. Based on a poll of last year's ticket registrants, approximately two-thirds of the audience members were aged 18 to 34, and almost half were 25 to 34.
Ranging from cinema pre-roll to cardboard "bum boxes" that offer comfortable, recyclable seating, Walker says the most successful activations from past years have engaged attendees with an activity they can participate in while they wait for the movie to begin. "People show up early because they want great seats, but then they don't really know what to do until the sun goes down," she says. "For example with Toyota who was a sponsor last year, you could go for a test drive while you were waiting for the movie to start."
Walker says the event is being promoted with transit ad buys and other media, adding that in past years, Sail-In Cinema partnered with the Toronto Star, CP24, Metro and various radio stations for paid and in-kind media.