Muskoka Brewery's Detour IPA turns away from typical beer ad
The new Detour campaign uses locals to send a more honest and accessible message.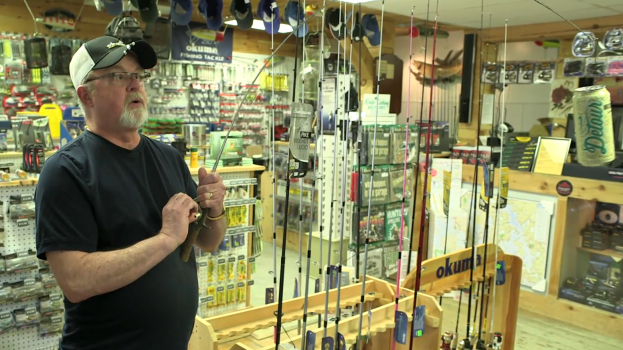 Allowing amateurs to ad-lib their way through a beer commercial will result in a few hiccups, but that's exactly what Muskoka Brewery wants from a new campaign for their Detour IPA.
The creative for the campaign comes from Vancouver-based agency One Twenty Three West, whose visual designers had previously worked with the company on some of their label designs. The videos are cheesey, awkward and obviously star amateurs, but are oddly charming and definitely different from the typical beer ad.
Muskoka's Mad Tom is one of the best selling IPA beers on the Canadian market, but like most IPAs, its bitter, hop-heavy flavour can turn off some beer drinkers. Detour is meant to be a lighter, more accessible IPA that might be different from what beer fans would expect.
"The idea for the ads came from the product. You start out on a path and have no idea where it's going to go," Rob Sweetman, founder and creative director for One Twenty Three West, tells MiC. "We thought it would be hilarious and a lot of fun to do the same thing when we filmed our ads in Muskoka."
The agency brought a film crew to the Muskoka region and approached locals to appear in the commercials on the spot, sometimes getting in a boat and pulling right up to a dock. The new "actors" were handed an outline of a script and were encouraged to ad-lib and improvise their way through the scene.
The videos left in moments where the talent messed up their lines and some of the featured testimonials are from people who didn't actually like the beer.
"We're calling it an unfiltered ad for an unfiltered beer," Sweetman says. "We're totally open to ad-libbing, and we really want people to be honest, even if they don't like it."
Enforcing that honesty with a light-hearted wink to the audience is an important part of the craft brewery's image.
"They make beers that they like, and they know by doing that, they aren't going to be for everyone," Sweetman says, embracing the niche target of the brand. "And that's okay."
The videos will be shared through Muskoka Brewery's social media channels and used as pre-roll advertisements on online video platforms, distributed through the Cadreon real-time bidding network. A dozen videos are now available on YouTube, with at least 10 more being released in the near future.
"They obviously have to sell beer, but being a craft brewery, they don't want to get too mainstream," Sweetman says of excluding a television aspect in the campaign. "They'd rather protect what they have."
Radio ads – ideal for hitting both the large city markets and small markets in cottage country – will be rolling out later this month, recorded in a style similar to the videos. The spots will be airing on TSN Radio and a range of music stations in Toronto and Ottawa, as well as on Moose FM stations in Huntsville, Bracebridge and Parry Sound. Looking ahead, the brewery has begun inserting fill-in-the-blank radio scripts into cases of Detour, encouraging customers to record their own ads on their iPhones and send them back in for use down the line.
In addition to finding that area between being visible without being mainstream, the campaign is also had to strike a careful balance between showing that the product is accessible, while still appealing to their ever-expanding target market of craft beer lovers.
"More people are getting into it and want a quality beer, and that spans all genders and ages," Sweetman says. "Mad Tom is too much for most people, myself included. This might be an entry level craft beer, something lighter that still has a bit more flavour and uniqueness to it."
Sweetman says Muskoka Brewery is very involved in their community, something using locals in the ads reflects. As part of their campaign, the brewery will be continuing that tradition, hosting samplings, hanging banners in local bars and sponsoring events like tweed rides. The brewery will also be working with Jeff Sinclair, a Muskoka local who promotes boat safety in the area, giving out samples as part of his "water on the water, beer on the pier" message.