Spotted! Virgin Mobile shows its pride
The mobile company takes over Yonge-Dundas Square in Toronto to spread a message of love.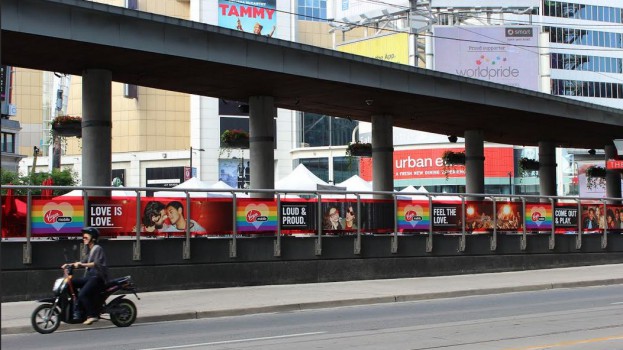 Virgin Mobile has long been a sponsor of Pride Week in Toronto, but this year it's taking its activations off the parade route and onto the streets by placing bench, street side and subway window wraps around Yonge-Dundas Square with a message of love.
Sheryl Davey, associate director of PR and social media at Virgin Mobile Canada, tells MiC that the ads use Virgin Mobile Canada's existing sponsorship of the area to place messages including "Love is Love," "Loud & Proud," "Come and Play" and "Love Always Wins" around the Square.
She says the execution, with creative from Juniper Park and all other work done internally, spreads the brand's involvement of the issue beyond the parade route. Davey adds the company is also using the World Pride platform to draw attention to issues around the LGBTQ community. To that end the company has also created a #Notachoice video to highlight the percentage of homeless youth who identify as LGBTQ as part of its RE*Generation program.
Davey says the Yong-Dundas Square ads will be up until mid-July.