Outfront Media expands digital presence
Four high-traffic locations in the Montreal region have been converted, bringing the company's total number of digital faces to 40.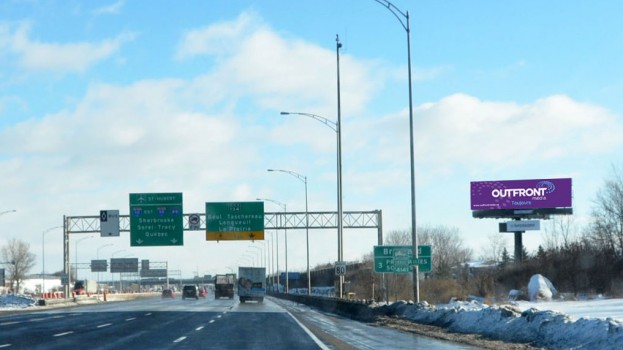 Outfront Media has added four boards to its growing digital inventory, converting locations in the Montreal region.
Two of the boards are 14′ x 48′ superboards in the greater Montreal area of Brossard. Diane Lanctôt, research and marketing manager for Outfront Media (formerly known as CBS Outdoor), says converting the faces near the foot of the Champlain Bridge – one of the busiest bridges in the country and located near the major shopping area of Quartier DIX30 - was a priority for the company as it grows its digital presence. Each of the boards will be seen by more than 82,000 commuters daily.
It has also added digital to two 10′ x 20′ locations in the Chicoutimi borough of Saguenay. The two posters on St. Paul Boulevard are near the city centre and visible to two-way traffic on Dubuc Bridge. Each board sees daily traffic of 44,800.
Advertisers can buy 10-second placements on the boards, Lanctôt says.
With the conversion, Outfront Media has around 40 digital boards across the country, including the Toronto, Ottawa, Calgary, Edmonton, Regina and Saskatoon markets.