KFC's Double Down is back
The fast food chain is building anticipation for the re-release of the famous sandwich with a teaser campaign and new TV spots.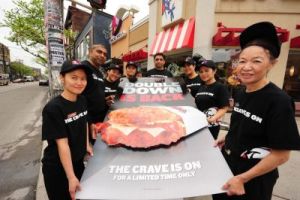 KFC is treating the release of the new and improved (10% less sodium) Double Down much like that of a blockbuster movie, with previews of the sandwich and even a two-hour teaser taste at selected restaurants late last month.
It's no surprise KFC is playing on the arrival of its celebrated Double Down, with over one million sold last fall, the product launch set a record for the franchise.
Media for the campaign was done by ZenithOptimedia with creative adapted by Toronto-based Grip from work by Ogilvy in Australian. The TV commercials set a tone for the much-anticipated release, showing an assortment of die-hard fans screaming as they wait for KFC doors to open. The ads sporting the tagline "It's Back Canada" will officially air June 6 on major networks including CBC, CTV and Global.
"We took a humorous approach to celebrate that anticipation. The Double Down is very legendary and has a buzz-worthy nature to it,"  David Vivenes, senior marketing director, Yum! Restaurants Canada tells MiC. "Canadians embraced it when we launched it and there is still a lot of desire to taste it again."
To add to the craze for the bun-less sandwich, KFC selected 15 restaurants across Canada to offer consumers the Double Down for a limited two hours in May. The sandwich was officially released June 1 at selected locations and will be stocked at all KFC restaurants in Canada by June 6.
No word on if the Double Down will become a permanent fixture on the menu.
Here is a sneak preview commercial of the 'legend' for MiC viewers to munch on for now.