Glam Media Canada now reps YummyMummyClub.ca
The partnership allows the site for Canadian mothers to now sell rich media ads.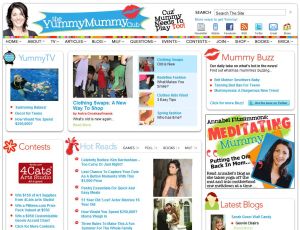 YummyMummyClub.ca has partnered with Glam Media Canada, helping to make the US media group's new presence north of the border number one among Canadian mothers, with more than nine million viewers in May, according to ComScore data.
The site will offer all IAB-compliant ad sizes, including leaderboards and big boxes to microsites and advertorial packages.
The trick to the site's success, says founder Erica Ehm, is marketing to mothers as they look for advice on how to manage their busy lives.
An example is a blog sponsored by Schneiders and written by Candace Derickx about the sandwich meat maker's Country Naturals cold cuts line.
Ehm said the blog helps mothers prepare school lunches with natural sandwich meats.
"Schneiders entrusts us with their message, and lets us explain their product with our voice. We tell the truth," she explained.
Ehm, backed by Glam Media Canada, faces stiff competition targeting Canadian women.
Corus Entertainment is backing the OWN: Oprah Winfrey Network in Canada and Rogers Media pacted with NBC Universal's iVillage.com property to launch the iVillage Canada web portal last spring.
But Mark Boxer, vice president of Glam Media Canada, said his ace in the hole is Glam Media's existing content library, including articles and video, and an army of Canadian editors and writers creating local content.
"Our mission has been simple: to jump into the fold of Glam Media seamlessly, and bring premium brand advertisers online and connect them with powerful social content," Boxer explained.
From Playback Daily