Social TV: building branded communities
Social networking platforms have ushered in an era of community TV viewing, where people can gather online, be entertained together and share their catty comments or cheerleading. This opens the virtual door for advertisers to mobilize entire communities behind campaigns that live within the social ecosystem.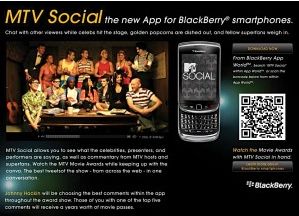 Nothing expresses "power of the people" quite like social TV. The Much MTV Group has effectively used it to leverage and connect its rabid teen fan base, creating social programs grounded in its TV content, that in turn mobilize them behind branded campaigns.
Coinciding with the MMVAs, Much released a social companion app dubbed Much Closer in partnership with BlackBerry. Downloaders could follow live discussions from celebrities, presenters, performers, Much hosts and anyone else who talked about the awards, as well as chat with fellow superfans. Much Closer followed a similar app developed for MTV around the MTV Movie Awards called MTV Social, which Chris Unwin, senior strategist, Much MTV Group, calls a giant digital couch, which lets users fill in gaps around programming. It also allowed users to check out what their peers, celebs and MTV personalities were saying about the event.
At press time Much MTV Group was working on updates that will allow both apps to work with all of both channels' prime-time shows. It plans on rolling out the apps across other mobile platforms in the future.
"We will continue to develop mobile applications under the Much and MTV brands that deliver a more customized consumer experience for participating in social conversation during our shows," says Unwin. "It's great that services like Twitter and Facebook have reinforced the value of tuning in to live event programming."
The CBC has made inroads around Hockey Night in Canada, a passion point for many Canadians, with its Chevy iDesk and interactive game chats. This year it upped the ante, setting up Hockey Night Pulse (Hockeynightpulse.cbc.ca), presented by Internet Explorer 9 through a partnership with Microsoft, as a social companion to the program. It worked with the Twitter API to display tweets in real time that corresponded to every game of this year's Stanley Cup playoffs. Using data visualization, hockey fans could see what their peers were saying as goals were scored, penalties were given and games were won or lost.
At press time, it had crunched over 1.2 million tweets.
This year Hockey Night in Canada also unveiled a new interactive experience for viewers using GetGlue, a social network for entertainment where users can check in and share what they're watching, listening to and reading with friends. GetGlue provides participants social currency by way of custom stickers that are awarded for achieving certain goals. CBC offered HNIC viewers the chance to unlock exclusive Don Cherry and Ron MacLean stickers for the Stanley Cup Final. At press time more than 62,000 Canadians had checked in with a reach of more than 14 million on Facebook and Twitter.
"We're trying to create unique, compelling experiences for our audience that also are positive experiences for our sponsor," says Dan Tavares, executive producer, CBC Sports. "As a public broadcaster we must be innovative, relevant and always connecting communities."
"I think the big thing [social TV] does is bring together the fact that consumers are watching content in different places, on different devices, and makes it into more of an ecosystem," says Robin Hassan, digital group director at Starcom. She adds that when her team makes programming recommendations for clients when developing media plans, they base them on the audience ratings for the shows. The difficulty is that technology isn't necessarily capturing all the behaviours, or the real level of engagement of the audience, and social activity around it is a good way of seeing what else people are up to when they're consuming entertainment content.
Microsoft is an example of a company that provides a different kind of ecosystem for socializing. Subscribers to Xbox Live have the ability to watch video content provided by Xbox (including Nextflix, Zune Marketplace, ESPN, Hulu Plus in the U.S. and now UFC and YouTube) in "party mode," which not only lets them send messages to each other, but also speak directly. Xbox Live also features Video Connect, a dedicated large-screen video chat interface.
For advertisers, the Xbox 360 console offers a potential audience of 30 million highly enthusiastic subscribers worldwide, and 1.8 million Xbox Live subscribers in Canada who spend 37% of their time on the service watching video and 19% being social. Not only that, but they willingly provide personal information that enables a level of addressability. There's also the avatar, an "aspirational you" that people sign in with and spend quite a bit of time customizing.
"The whole idea of an avatar is inherently social," says Mark Kroese, GM, advertising business group, entertainment and devices division, Microsoft. "What TV network in the world has everybody that turns on the TV enthusiastically sign in with a visual persona? One of the things we've learned is this idea of "badge and tribe" – the ability to find more people like you, or have the people like you introduce you to new music, or whatever, is one of the great powers of social networks and we're really doing all of that on the TV."
Microsoft is just getting into streaming actual TV content and in those cases doesn't control in-stream ad inventory. That's left to its broadcasting partners.
However, the Xbox Live platform provides other effective avenues for advertisers to leverage its high social engagement factor. Doritos used it in the U.S. to build a campaign that saw members vie to have their own game concept brought to life through a $50,000 gaming consultant project.
The winning game (offered for free) was the fastest downloaded Xbox Live Arcade game ever with over one million downloads. Over 50% who saw the contest promoted on Xbox Live clicked to learn more about it, 72% took action after seeing the Doritos ad and of those 49% went out and bought Doritos.
Such a campaign has yet to launch in Canada, but this is the kind of social network power about to be unleashed.