Winners and Vervegirl dress the stars
The retailer and magazine target teens with a contest that gives them the chance to become celeb stylists.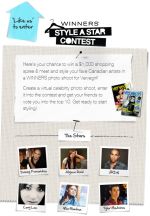 Vervegirl magazine has teamed up with retail giant Winners to give aspiring stylists their dream contest. Contestants are asked to dress up online celebrity avatars via an app on Facebook to win a chance to style them in real life.
The campaign, created by Toronto-based Ogilvy with media from MediaCom, will be promoted through Vervegirl's online, print and mobile avenues. It will also be featured in pre-roll cinema spots created in-house at the mag, featuring two of the Canadian stars involved in the styling challenge, Danny Fernandes and Mia Martina. The spots hit theatres nationwide last week and run throughout the contest, which wraps up Aug. 29.
The winner, which will be decided via voting on Facebook, will see their photoshoot with the real celebs featured in the pages of Vervegirl magazine and French-language fashion pub Clin D'Oeil as a Winners print ad.
Kaaren Whitney-Vernon, president and CEO of Vervegirl tells MiC the partnership came about after conversations with MediaCom, which was searching for a way to target a previously-untapped teen demographic for Winners.
Whitney-Vernon says the specific demo is teens aged 12 to 17, adding that the campaign will reach out to both English and French readers with the help of Clin D'Oeil, which, though not involved in promotion of the contest, will feature the winner's spread.
This campaign marks the first use of pre-roll by the magazine, though it has been previously involved in online video, with 82 interview uploads on its YouTube account.