Arby's gets political
Homestyle fries and curly fries face off in an election-themed campaign targeting 18- to 34-year-olds.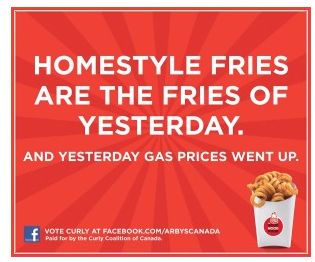 It's the french-fried showdown of the century: homestyle vs. curly. Seeing as it's been an active election year, Arby's Canada is keeping with the trend, encouraging Canadians to vote for the fry that best represents their taste buds.
Starting this Friday, both french fry variations are hitting the campaign trail hard as part of the promotion with media and creative by Toronto-based Blammo Worldwide. It's a bigger-than-usual spend for Arby's, bolstering its online presence and differentiating the brand from burger-focused competitors by touting a signature product to 18- to 34-year-olds.
"With Blammo, we've started working a lot more in the online environment, which seems to work very well for us," says Wendy Spence, national marketing manager, Arby's Canada. "We thought [the election] is such a small idea, but has so many legs and can be so much bigger if you put support behind it."
Expect to see lawn signs and bumper stickers sporting cheeky slogans supporting either the Curly Coalition of Canada or the Homestyle Alliance popping up across the country. In-store advertising and a robust Facebook presence are also in the mix and all elements direct voters to microsites where they can read up on the candidates and their platforms and vote.
Mudslinging campaign videos for each "party" are featured on the sites. One supporting the Homestyle Alliance casts doubt on the Curly Coalition's commitment to the environment. It points out that the spicy breath of curly fry fanatics is likely causing rising global temperatures and, using the plight of a baby penguin to illustrate the point, notes that people can't afford to have curly fries on their conscience.
"Certainly in this day and age we're always looking to take advantage of culture and what's going on and I think this is a fun way to poke fun at the whole election process and, in doing so, sell a boatload of fries," says Andrew Simon, partner, CCO, Blammo Worldwide.
Simon says that to provide extra incentive to get to the polls, Arby's is offering voters the chance to win fries for a year. The contest wraps in October.