Play Taxi Media expands to Toronto and Calgary
The Vancouver-based media co adds cities for its interactive touch-screens on the back of taxi passenger seats.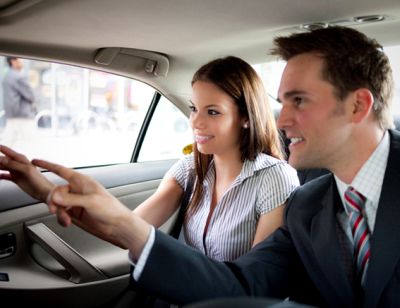 Placing an ad on a taxi roof or door is not necessarily a new idea. Neither are TV screens on the back of passenger's seats. However, there are only a few advertisers in Canada that have chosen to use this platform in their marketing plans, and Vancouver-based Play Taxi Media is en route to turning TVs in cabs into touch-screens as it expands to Toronto and Calgary in November.
The media co has had a successful three-year run on the West Coast, where it has placed ads on interactive touch-screens in cabs for the CBC, the Weather Network, Flight Centre and Telus.
"Because of the success locally, the next logical step was to roll it out nationally," Zachary Killam, founder, Play Taxi Media, tells MiC.
Killam says that the screens make for a winning platform as it gives passengers, who spend an average of 15 minutes in the cab, a play station with games and video in a captive environment.
He adds that the platform has precise measurement in that the screens will shut down when the meter is off, therefore providing accurate reporting of how many eyeballs are exposed to the ads. Killam says that the media co is also able to track screen touches and store user email addresses and information taken from promotions.
For Flight Centre in Vancouver, the agency created a game where consumers could match images of various landmarks in different cities around the world. Those who matched the attractions to the correct places were given a $50 voucher from the travel organization for their next flight. Passengers were also able to explore and learn about Flight Centre through the touch-screen app.
Recently, Mothers Against Drinking and Driving (MADD) partnered with Play Taxi Media to air ads created as an extension of its previous TV spots on touch-screens on 500 taxis in the three cities. The original ads show a drunk driver's point of view with their vision blurring as one empty pint glass after another is placed in a row, in front of their eyes. The new creative shows the reverse, with each glass being removed and accompanied by a message thanking the passenger for choosing a taxi instead of driving while intoxicated.
"We can take full motion video from TV and combine it with interactivity and measurability. So the passenger is able to touch, feel and have a brand experience," says Killam.