Score Media swings to fourth quarter loss despite record revenue
The Canadian sports broadcaster pointed to revenue gains from traditional TV and digital platform business.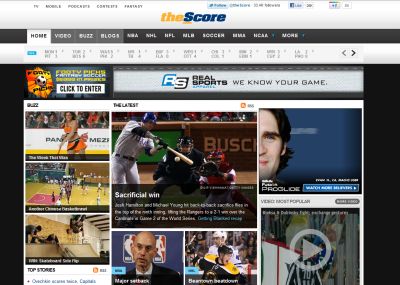 Despite record revenue, Canadian sports broadcaster Score Media on Thursday swung to a fourth quarter loss on a one-time charge for a future income tax expense.
Toronto-based Score Media, which faces persistent speculation it is up for sale, posted a loss of $316,000 for the three months to Aug. 31, against a profit of $1.1 million in the same period of 2010.
The 2010 Q4 results included a one-time tax recovery of around $1 million, while the latest quarter included an income tax expense of $354,000.
The broadcaster, which includes The Score TV network, saw fourth quarter revenue jump by $1.1 million to $11.6 million, against  a year-earlier $10.5 million, as Score Media increased its business across TV and digital media platforms.
Fourth quarter EBITDA was $1.9 million, compared to $1.4 million in the same period of 2010.
The full-year 2011 earnings were $1.47 million, down from year-earlier profit of $2.5 million. Overall revenue was up $3.9 million to $47.7 million at the year-end, compared to $43.8 million in 2010.
Its sports app, ScoreMobile, reached over 3 million monthly unique visitors (from 1.4 million in 2010) in peak months during the fiscal year and Tom Hearne, CFO, Score Media, tells MiC that the rise in mobile app users can be largely attributed to the media co's acquisition of SportsTap in May of this year.
He says a good portion of the new users came from the US and now Score Media is making investments to build up their sales force in the market.
"We have learned that you have to be patient in the mobile space, you need to be able to deliver products that are relevant to people and give them real access to sports information," he says. "Once you build up that base then that's the right time to start monetizing it."
When asked how Score Media looks to differentiate itself in the industry, Hearne explains that it chooses not to partake in the "live event war" that occurs between other sports media channels.
"[Sports networks] are out spending tons of money trying to buy every live event games that exist and they seem to be focused on this battle," he says. "There are lots of live events that are still available. But we just don't take a live event and throw it on the network. We make sure that we put a lot of content around it."
"We brand it and we put editorial and focus-type shows around it. We create conversation with our fans and viewers and that seems to be working for us," adds Hearne.
Executives at Score Media declined comment on recent media reports that the broadcaster is up for sale for a rumored $200 million.
With files from Jennifer Horn.
From Playback Daily