The National Post gets to the point
The Postmedia newspaper aims to carve out its conservative positioning with a new tagline.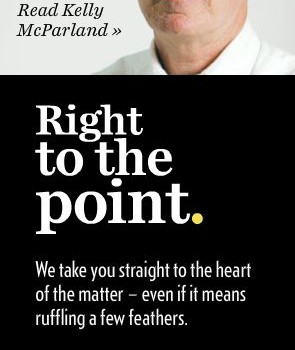 Postmedia Newspaper the National Post has launched a new tagline, "Right to the Point" aimed at carving out the publication's small "c" conservative positioning in the Canadian market, Douglas Kelly, publisher, tells MiC.
"We thought about the paper's strengths and came up with this internally," he says. "We think that it captures a lot about our proposition in the market. The tagline doesn't just cover commentary, because I think a lot of our writing and analysis falls under this rubric. I think in today's media world it is important to carve out a place in the market and put a stake in a part of the audience."
The new tagline will be promoted with a campaign, with creative and media done internally, says Kelly. Creative in the campaign includes  declarative statements from National Post writers, including Christie Blatchford and Rex Murphy, which illustrate the new tagline.
The campaign will appear across Postmedia digital properties, on TV and on radio stations in Toronto, including CHCH, CFRB, AM640 and Q107.