Mott's Clamato recruits an ambassador
The Canada Dry Mott's brand searches for an outgoing Caesar-fanatic to educate consumers about the drink.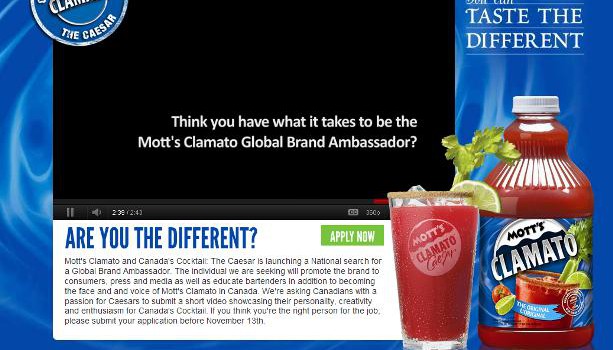 Mott's Clamato is eschewing online job postings that can get lost amongst the masses of other companies looking for the best of the bunch. Hence the creation of a microsite that invites energetic and social-savvy Canadians to apply for the position of its global brand ambassador.
Alison Bing, corporate affairs, Canada Dry Motts, tells MiC that the brand is looking for someone who has a large network in the bartending and food services industry and will be able to bring the brand to life by educating consumers about the Mott's Clamato Caesar.
"We know how important it is for people to receive a positive recommendation of a brand by a trusted, credible third party source," she says. "The key role of the [ambassador] is to help facilitate an introduction to the Caesar."
According to the site, which was created by Black Rock Marketing, applicants must have three to five years experience in the industry, be of legal drinking age and comfortable on TV and in front of media as they attend high-profile events in Canada, such as the Stanley Cup Play Off party and the Calgary Stampede. The full-time contract is for a period of 12 months and the chosen ambassador will be compensated for their carousing and networking skills with a salary of $70,000.
Areyouthedifferent.com is currently being promoted through Facebook ads, as well as on job posting sites to a target audience of men and women age 25- to 40-years-old, says Bing.