Workers' Compensation Board scrubs safety records clean
The Nova Scotian board enlisted Statements Media to place ads on dry-cleaning bags.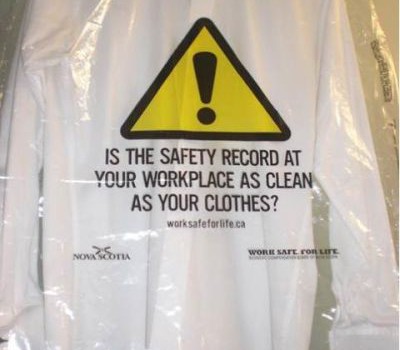 "Is the safety record at your workplace as clean as your clothes?"
The Workers' Compensation Board's (WCB) question at hand has been posed to customers of a dozen Nova Scotia dry cleaners in an effort to raise awareness of workplace safety and drive traffic to its website, Adam Watson, VP business development, Statements Media, tells MiC.
Over 50,000 garment bags adorned with the ads, created by the Extreme Group and placed by Jungle Media, were distributed across the province in order to specifically reach business owners and managers.
"The demographic is pretty precise in that the dry-cleaning user is usually a business professional with above average level of education and income," he says. "The logic behind [placing ads on garment bags] is to give companies the ability to place their message right inside the home."
Watson's company has placed ads on the alternative advertising platform for the past seven years in Canada and he says that companies which tend to do well in the space are those in the home improvement category such as custom cabinetry, kitchen and closet companies.
"It works really well with [brands] who are looking to gain online traction and awareness," he adds.