Telus and Hockey Canada partner for a mobile cause
The brands have collaborated to create a mobile web app experience in celebration of the 2012 IIHF World Junior Championship.
Team Canada fans can wear their hearts on their phones, thanks to a new mobile web experience from Telus and Hockey Canada.
Fans can now choose their "Ultimate Team Canada Starting 6" via a mobile web experience, created and executed by Vancouver-based mobile marketing agency, Iamota, and launched in conjunction with the 2012 IIHF World Junior Championship being held this week in Calgary and Edmonton.
Going back through close to three decades of hockey history, fans are able to choose from star players such as Crosby and Lemieux to be a part of a virtual National Junior Team starting line-up.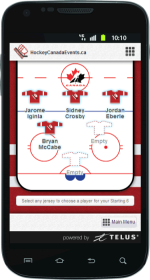 Telus will donate $1 to Hockey Canada (for each team chosen as well as for every time the user shares on Facebook and Twitter).
Prizes for participating, such as tickets to the 2012 Bronze and Gold medal games as well as a trip to Ufa, Russia for the 2013 World Junior Championship, can also be won.
Since the launch of the initiative on Dec. 26, there have been over 100,000 mobile interactions – which include mobile web app visits, SMS, Facebook and Twitter – and close to 35% of users have shared their experience via Facebook (24%) and Twitter (11%), Pete Smyth, CEO, Iamota, tells MiC.
The app is being promoted through TV ads during NHL games on Sportsnet and live score feeds, Twitter comments and Facebook photos on the 25-storey Telus building in Edmonton, says Smyth. The same interactive billboard will light up another building in Calgary this week.
There have also been street teams with Samsung tablets at fan zones at the IIHF World Junior Championship arenas in Calgary and Edmonton, promoting the initiative by inviting attendees to sign up for the contest. Additionally, in-arena digital signage is being used to get the word out.
Smyth's agency has worked with Telus for the past four years and in the earlier years with the brand, he says that its mobile executions were done on a much smaller scale.
"That was due to the education that was needed, which was also very similar to the digital space back in, say, 1995, when there was a lot of trials and proof-of-concept type work," he says. "And now we're at this point where the 'ah-ha' moments are there. The marketing teams get it and they know that there is high value [in the mobile space] for customers."