Redux Media to rep ARTISTdirect.com
The media co is now handling the online ad sales of The Rogue Network's music and entertainment site in Canada.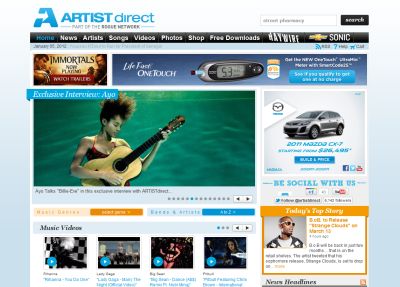 Redux Media has struck a one-year deal with The Rogue Network's global music and entertainment website, ARTISTdirect.com.
The online ad sales company is the new rep for the website in Canada, providing advertisers the opportunity to reach a target audience of 18- to 35-year-olds, slightly skewing toward males who are highly mobile, Christopher Patheiger, VP of business development, partner, Redux Media, tells MiC.
ARTISTdirect.com features music and videos, breaking news, interviews and bios on musicians, actors, filmmakers and film score composers.
On the site, there is opportunity to promote through homepage road blocks, section sponsorships, genre targeting, custom sweepstakes, video and audio pre-rolls and custom page design, says Patheiger.
According to comScore, ARTISTdirect.com receives 105,000 unique monthly Canadian visitors and more than 3 million monthly page views.
Around the same time last year, Redux Media also signed on to represent the Canadian online inventory of The Rogue Movie Network. Redux Media also recently announced it is representing the financial set of sites called The Street.