Koodo's unique take on travel rewards
The mobile brand has launched a Facebook contest that plays with the benefits of having long-distance friends.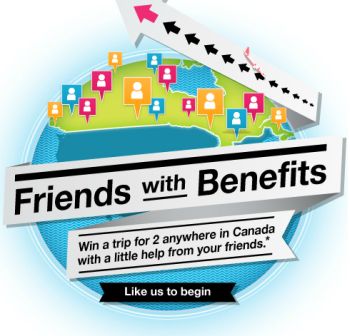 Koodo is going the distance for consumers with an online contest that rewards users for the amount of kilometers between them and their Canadian Facebook friends.
Uncle Joe in the Northwest Territories is starting to look pretty good right about now.
Aptly named "Friends with Benefits," the game allows players to accumulate kilometers between friends within Canada in order to win prizes, which includes a tip for two to anywhere in the country, as well as a cash, mobile phones and gift cards. And while the tab will calculate the amount of friends you have in distant places, it will only officially count the kilometers if the friend has also signed up to play the game. The contest will continue to run until Feb. 16. The media planning was led by Cossette, with the creative handled by Taxi 2.
"Koodo has a Canada-wide plan that gets rid of long-distance and roaming charges within the country, so we wanted a way to get people talking about that," Lance Martin, executive creative director, Taxi 2, tells MiC on the reasons behind launching the game.
"I like the fact that [the contest] involves game play by interacting with the real world," he says. "This isn't exactly a hard sell. We're so confident in our plans that we don't really have to hit you over the head with them."
With a taste for neon and a buff wrestler as its spokesperson, Koodo will traditionally advertise itself on billboards, in commercials and within malls, says Martin. But for this particular initiative, Koodo decided to fasten its digital hold with the placement of ads on a variety of entertainment and travel sites directing its target audience of 18- to 24-year-olds to its Facebook page and instructional YouTube video.
The contest went live on Friday, and before any advertising launched, it already received over 5,000 registered players, says Martin.